JoeyPinkney.com Exclusive Interview
5 Minutes, 5 Questions With…
Nisha Lanae Pounding The Pavement, author of Pounding The Pavement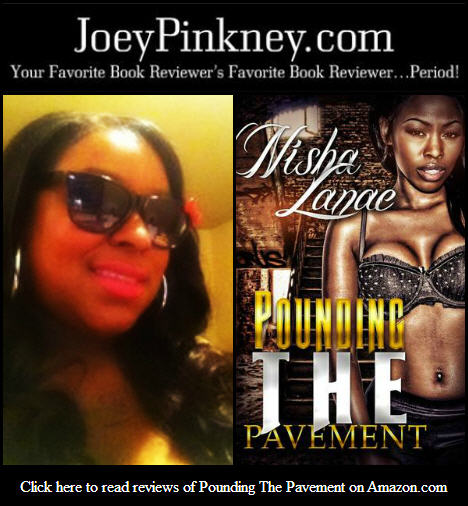 "Pounding The Pavement" is a story of redemption. The story follows a young woman, Kandi, on her quest to overcome the hurt that has plagued her heart after being forced into prostitution at a very young and tender age. The story is being told by Kandi as a grown woman, years after the events have transpired of the horrible childhood she experienced.
Joey Pinkney: Where did you get the inspiration to write "Pounding The Pavement"?
Nisha Lanae: My inspiration for "Pounding The Pavement" came from everyday life and what I saw growing up in California. I was also inspired by a few close friends who have experienced life on the streets as a prostitute. 
I wanted to write the story to show women that no matter what you go through in life, you can overcome it and move forward. I think people allow mistakes and hurt to cripple them in life, so I wanted to write a story where a woman goes through more than most could bear, and yet still overcomes it.
JP: What sets "Pounding The Pavement" apart from other books in the same genre?
NL: What sets "Pounding The Pavement" apart from other books in the same genre is the realness of the story and plot. It stems from real events and things I have seen – mixed in with my imagery and my creativity.
JP: As an author, what are the keys to your success that led to "Pounding The Pavement" getting out to the public?
NL: Promotion! Promotion and tons of communication with people. You can't be scared to approach and speak with people. You have to always remember you will be rejected. Everyone is not going to like your work.
My success is based on the amount of people I can inspire and influence. It's not based on sales or ratings.
JP: As an author, what is your writing process? How long did it take you to start and finish "Pounding The Pavement"?
NL: I'm still a full-time employee, so I write every chance I get. I try to at least get in a minimum of a thousand words daily.
"Pounding The Pavement" had been written for two years just sitting. It took me about 30 days to revise it.
JP: What's next for Nisha Lanae?
NL: Next for me is establishing my own publishing company and launching a t-shirt line that caters to authors and readers.
Of course, I will be putting out more books, learning the craft more, and making every book better than the last.
http://facebook.com/ Search: Nisha Lanae
http://twitter.com/MrsCockyDIVA
http://instagram.com/BlkBeautyDiva
"Thanks for having me. To any aspiring authors who maybe reading: Keep at it. Don't give up. Get tough skin. Learn as much as you can. Never stop learning and improving." ~ Nisha Lanae
You can click on each banner as it scrolls by to learn more about each sponsor!