JoeyPinkney.com Exclusive Interview
5 Minutes, 5 Questions With…
Elizabeth Cohen, author of The Hypothetical Girl
(Other Press)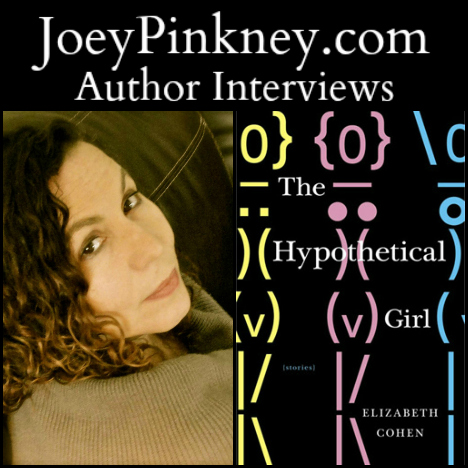 Fifteen short stories about online love and courtship.
Joey Pinkney: Where did you get the inspiration to write "The Hypothetical Girl"?
Elizabeth Cohen: Online Dating.
JP: What sets "The Hypothetical Girl" apart from other books in the same genre?
EC: Honestly, I have never seen a book like "The Hypothetical Girl". These stories take ideas from actual and wild experiences I had (mad love, stalker, guy figured out he was gay) and mix and meld them with things I imagine might or could happen. Add in a dash of magical realism. Everyone says it is quite original!
JP: As an author, what are the keys to your success that led to "The Hypothetical Girl" getting out to the public?
EC: These are the four things that I believe led to the publication of "The Hypothetical Girl":
Timing (a very topical subject – online dating and courtship)
Luck (right place, right time)
A wonderful publisher (Other Press)
Some hard, hard work!
JP: As an author, what is your writing process? How long did it take you to start and finish "The Hypothetical Girl"?
EC: When I am "in the zone", as I call it, I write whenever I can steal time. When I am not, it can take years. "The Hypothetical Girl" took three years, start to finish and a lot of blood, sweat and tears.
JP: What's next for Elizabeth Cohen?
EC: I am working on a memoir. My second one. My first was published in 2003 and was a New York Times Notable Book of the Year. "The Family on Beartown Road", in hardback, "The House on Beartown Road".
http://thehypotheticalgirl.com
http://facebook.com/ElizzyBear
http://twitter.com/hypotheticalmoi
http://www.thehypotheticalgirl.com/blog.html
"If you want to fall into a book that completely engrosses and amuses you, takes you to places you have never dreamed of, lifts and crashes your heart, read "The Hypothetical Girl"." ~ Elizabeth Cohen
As Oprah's Magazine, O, asked, in their review:
"What if you could be yourself and, at the same time, also anyone else you ever dreamed of?"
read this book to find out what that might be like!
Read more: http://h1t.it/15v6u00
You can click on each banner as it scrolls by to learn more about each sponsor!