JoeyPinkney.com Exclusive Interview
5 Minutes, 5 Questions With…
Michelle Campbell-Scott, author of Goodreads for Authors
(Coo Farm Press)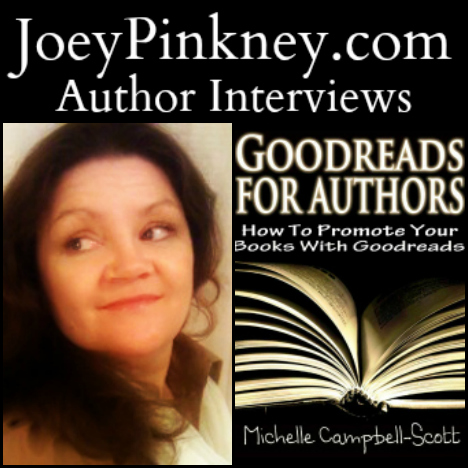 Goodreads is a fabulous, free website with over 20 million members – all of them avid readers. The site has lots of features that are available to authors, because they want author involvement in their site. It's kind of hard to find all the features though! That's where 'Goodreads for Authors' comes in.
I wrote it after searching for ways to promote my own books – I wanted free, non-cheesy or salesy ways of reaching potential readers. It took me so long to find the best ways of using Goodreads as an author that I decided to turn my research into a book, to help other authors find their way around quickly and get back to their writing!
Joey Pinkney: Where did you get the inspiration to write "Goodreads for Authors"?
Michelle Campbell-Scott: From sheer frustration! I spent so long trying to get the hang of Goodreads as an author that I hoped my research would be helpful to other authors. Once you know how, it's quick and easy to use Goodreads, but the finding out how takes SO long! [click to continue…]
{ 0 comments }