JoeyPinkney.com Exclusive Interview
5 Minutes, 5 Questions With…
Angela Kay Austin, author of Rumer
(Vanilla Heart Publishing)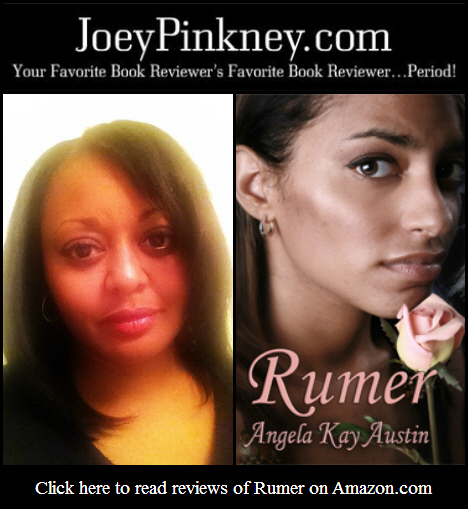 Rumer Wilson married the love of her life ten years ago, has two beautiful children, and has what she believes is a wonderful life to prove it. But, does anybody ever control love? Her world spirals into an unfamiliar place of uncertainty for everything she holds dear, when her husband falls in love with a woman hiding secrets.
Sebastian Ortiz has loved many women. Rumer is a means to an end. He doesn't want to hurt her, but he needs her – for revenge on the man who hurt his sister – the sister he's protected from harm his whole life.
Neither Rumer or Sebastian could imagine what comes next…
Joey Pinkney: Where did you get the inspiration to write "Rumer"?
Angela Kay Austin: "Rumer" is a little different from my others because I've never written anything with a mother as my heroine. I interviewed my friends, watched some of my favorite movies, and read blogs and magazine articles as part of my research. I wanted the things this mother of two tackled to be dealt with as a mother would.
JP: What sets "Rumer" apart from other books in the same genre?
AKA: I believe readers will see a strong Women's Fiction influence in my writing, which I believe makes my Romance slightly different. "Rumer" is more of a hybrid style, maybe. Half Romance/Half Women's Fiction.
JP: As an author, what are the keys to your success that led to "Rumer" getting out to the public?
AKA: I try not to ignore any piece of the marketing puzzle. I love meeting and talking with readers in person, but I also enjoy chatting with readers online. I've interacted with readers in other countries while sitting on my couch. I also love holding contests and giveaways.
JP: As an author, what is your writing process? How long did it take you to start and finish "Rumer"?
AKA: I'm not a full-time author, so my writing process must fit into my "regular" life. I write on nights and weekends. I try to write three to four days a week. I'm also a part of critique groups, and I enjoy being a part of that small group. It takes a lot of dedication. If I stick to it, it normally takes me about six to eight months to finish a full-length novel and about three months for a shorter piece.
JP: What's next for Angela Kay Austin?
AKA: I'm working on a piece that is a little different, for me. It's a Historical Fiction piece. I'm loving writing this one because it is blending a lot of things I love: history and romance.
It is set during the American Civil War. The research has also been difficult. I don't traditionally write in this genre, but it has been exciting. Now I have a plan to extend the book into a series.
http://www.angelakayaustin.com/
http://www.angelakayaustin.blogspot.com/
http://facebook.com/AngelaKayAustin
http://twitter.com/AngelaKayAustin
http://www.pinterest.com/AngelaKayAustin
http://www.youtube.com/AngelaKayAustin
"Thank you, Joey! I hope that readers who find my writing interesting will reach out to me, and let me know they enjoyed one of my books." ~ Angela Kay Austin
[include file=current-advertisers.html]