JoeyPinkney.com Exclusive Interview
5 Minutes, 5 Questions With…
Nicole Dunlap, author of Shattered Imperfections (Shaw Family Saga Book 4, The Finale)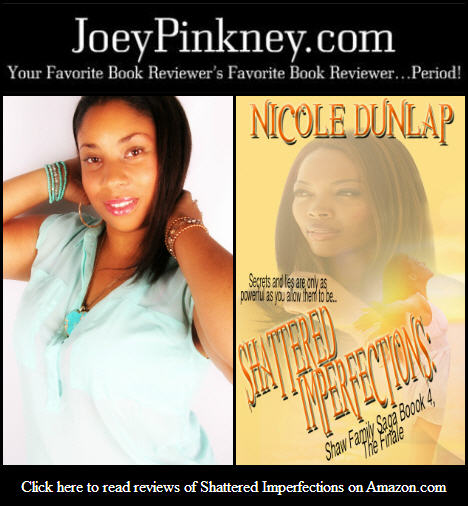 Nobody is perfect. Through the scandalous family lies that bind them all together, the Shaw women have triumphed. Four generations of women have tackled ups and downs. Now, Annette is perfectly comfortable with her life. Charlene has tasted the bittersweet notes of success. Raven is preparing for the wedding of a century and a life rich in love afterward. Beautiful, young Royael has all the pleasures of a princess…
While Dallas is in uproar over a gruesome rape-homicide, a lead Detective transforms into the ultimate stalker. A hitman lurks nearby. And death will surely come. The list of those wanting vengeance has reached its peak, but the Bible says that "God will not let you be tempted beyond what you can bear."
Take one last roller coaster ride with the Shaw and Devereux families. Will there be rest for these souls?
Joey Pinkney: Where did you get the inspiration to write "Shattered Imperfections"?
Nicole Dunlap: The entire series is based on dysfunctional families that I've counseled, bringing up the controversies of young teens dealing with depression, neglectful mothers, and more. As a family saga, these stories take on a mother-daughter relationship over the better part of a lifetime.
While "Shattered Imperfections" takes on forgiveness and revenge for those that are incapable of going the forgiveness route. As parents or children, we can always say sorry to each other. The issues can be swept under a rug, but the damage is done. It can take time to really solidify relationships after pain has been dished out.
JP: What sets "Shattered Imperfections" apart from other books in the same genre?
ND: Well, as the gumbo-genre novelist, I strive to write stories that encompass a rainbow of genres. The Shaw Family Saga series escalates from drama to suspense, but "Shattered Imperfections", being the last in the series really takes on inspiration, faith in God, as well as my love for suspense and dealing with persons who have mental disorders.
JP: As an author, what are the keys to your success that led to "Shattered Imperfections" getting out to the public?
ND: I love to network with other authors. I learn what my readers like based on past reviews because that will make my future stories successful. Communicating with readers is important to me.
And I mean those who just love opening up a book – people who are my friends on Goodreads and other social media. They friend me because I'm an author or notice the stories I've ready, but I like to chat. I am a very happy camper when someone reads by story and writes notes on Goodreads or Amazon as they go. That is heaven on earth and publicity!
JP: As an author, what is your writing process? How long did it take you to start and finish "Shattered Imperfections"?
ND: I wrote "Shattered Imperfections" in one month during NANOWRIMO (National Writing Month). It was my second successful year completing the program, and I love it. We authors must inspire each other. Writing a story can be a lonely task. Also some "self" competition is always good for the soul.
But the process was really me just purging my thoughts. Then I went back and read some, chucked other pieces, laughed at how crazy I am and kept fine tuning it until the story did justice to my main characters.
JP: What's next for Nicole Dunlap?
ND: As I love all sorts of music and movies, it goes to say that I have a new series beginning called Rock City. It takes on the raw, edginess of street literature. Growing up in Long Beach, California, half my life, and living in the 'burbs with my dad the other half, I have led a diversified life.
My alternate persona K'aliyah Knight will be rocking street lit to the fullest! So see you around, I got a lotta genres to tackle. Arrivederci! (wink: there will be an Italian mob, muhahaha)
http://www.facebook.com/AuthorNicoleDunlap
http://twitter.com/nicoleydunlap
http://www.goodreads.com/author/show/6535805.Nicole_Dunlap
[include file=current-advertisers.html]