JoeyPinkney.com Exclusive Interview
5 Minutes, 5 Questions With…
Beverly Jenkins, author of Heart of Gold
(HarperCollins)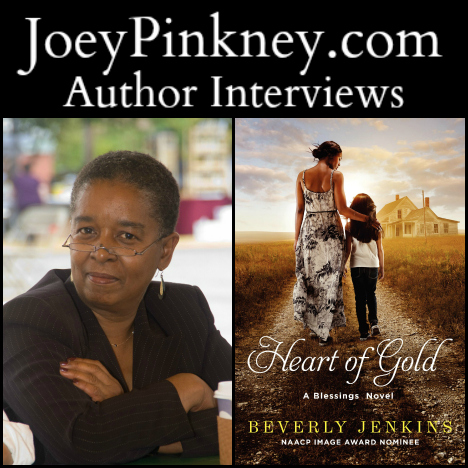 NAACP nominee and bestselling author Beverly Jenkins returns to the charming town of Henry Adams, Kansas—a place that always feels like home—in this heartwarming story of family, friendship, and the surprises hidden in our lives.
Henry Adams has had its fair share of drama ever since Bernadine Brown bought the town with her divorce settlement. Now just when things are starting to settle down, it's about to get crazy again . . .
Cephas Patterson doesn't just want to be left alone—if you dare step onto his property, he'll meet you with a shotgun and a warning to stay away from his gold. He reminds Zoey of the lonely time she spent living on the streets, so she quietly begins leaving him small offerings. But then Cephas dies and leaves a saddlebag of gold—to Zoey.
And that's not all. Zoey's parents are going through a trial separation, her former BFF Devon is giving her fits, and friend Crystal has run away from home. Then there's Bernadine's mean-spirited baby sister who has arrived unexpectedly, and an ongoing battle with a neighboring town is about to heat up.
Will Henry Adams ever be the same again?
Joey Pinkney: Where did you get the inspiration to write Heart of Gold?
Beverly Jenkins: The inspiration to write Heart of Gold came from a 1980s article in Parade Magazine titled a Place Called Hope. It dealt with a woman who petitioned the US government to take over an abandoned air force base so she could create a town for at-risk kids and their foster parents.
JP: What sets Heart of Gold apart from other books in the same genre?
BJ: As far as I know there aren't any other books using the historic all-Black townships founded in the 1880s as a platform for a contemporary series such as my Blessings series.
JP: As an author, what are the keys to your success that led to Heart of Gold getting out to the public?
BJ: Heart of Gold is my 32nd book. I was first published in 1994. Since then, I've focused on giving my readers a quality story each and every time.
JP: As an author, what is your writing process? How long did it take you to start and finish Heart of Gold?
BJ: I write two book a year. One historical romance and one Blessings series book. They each take about six months.
JP: What's next for Beverly Jenkins?
BJ: Next is my newest historical Destiny's Captive dropped on Oct 28, 2014, and the sixth book in the Blessings series – For Your Love – will be available from my publisher in April of 2015.
http://www.beverlyjenkins.net/
https://www.facebook.com/AuthorBeverlyJenkins
"Thanks for this opportunity to connect with your readers. The support is appreciated." ~ Beverly Jenkins
[include file=current-advertisers.html]