JoeyPinkney.com Exclusive Interview
5 Minutes, 5 Questions With…
Darren Keys, author of From White Powder to White Collar
(FKI Publishing)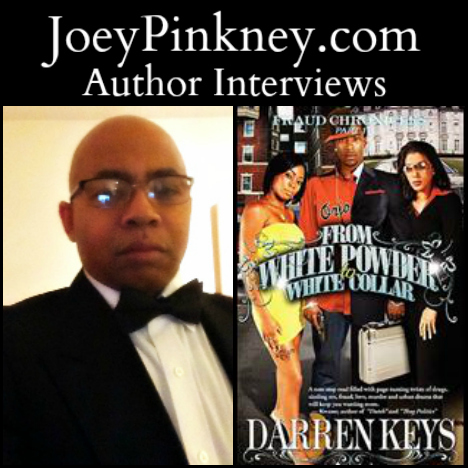 From White Powder to White Collar is an exciting roller coaster ride of twists and turns, depicting the life of an average, around-the-way-guy DeJohn Patterson, who finds himself a middleman in a drug deal gone bad.
He's caught up in the middle and is forced to fly to California where he meets four beautiful women and becomes engulfed in the dangerous underworld of Fraud, Sex, and Murder.
Joey Pinkney: Where did you get the inspiration to write From White Powder to White Collar?
Darren Keys: I was initially inspired by being charged with $12,000,000 (12 Million) in loss from seven (7) banks. My appeal was silenced. Many people who read the news articles about me asked me how did I do it? I answered, "Get the book when it comes out." G.B. Johnson inspired me to write my first novel when I saw him produce novel after novel.
JP: What sets From White Powder to White Collar apart from other books in the same genre?
DK: The book is introducing a new genre called "White Collar Street Lit." It is in a class by itself because it caters to Street Fraud. The behind-the-scenes reality-based stories of every kind of white-collar street-fraud imaginable.
JP: As an author, what are the keys to your success that led to From White Powder to White Collar getting out to the public?
DK: One of the keys to my success in getting my book to the public was Linda Huddleston at Midnight Express Books. Terrific, Tari Keys was the KEY also.
JP: As an author, what is your writing process? How long did it take you to start and finish From White Powder to White Collar?
DK: I write in segments I call "50 packs." This is 25 pages of lined paper front and back. It helps to keep the project organized, it helps to keep me feeling that I can breeze through 25 pages. I try to write excitement and action woven with reality.
It took me about a year to complete my first book.
JP: What's next for Darren Keys?
DK: Wow! I have so much I want to accomplish. I am currently finishing up Part Four of this Six Part Series. Keeping each one just as exciting or more than in the first book. I plan on taking it to the stage with my books… Tyler Perry WATCH OUT!
My next series is also being written titled Candy Girls and Sugar Daddies. I will be touring soon so watch for me.
You can find me at FKIPublishing.com/ AALBC.com/darrenkeys /Check me out on JoeyPinkney.com / urban-reviews.com / midnightexpressbooks.com / Barnes&Noble.com / Valorbooks.com
Check out my Facebook fanpage under "White Powder to White Collar" and become a fan or go to my Facebook Profile and send me a friend request, so I can keep you updated on each new project and play schedules.
I am currently seeking an assistant. Someone who won't mind making a few calls, doing a bit of research on-line, etc. I am also looking for social networking and web page savvy persons to help build pages and/or websites.  Someone interested in setting up book signings,etc.
Contact me at:
FKI Publishing
P.O. Box 34711
Philadelphia, PA 19101
or email: darrenkeys@gmail.com
or hit me up on Facebook after becoming a friend.
[include file=current-advertisers.html]