JoeyPinkney.com Exclusive Interview
5 Minutes, 5 Questions With…
Derek Jordan, author of A Small World
(Brass City Publishing)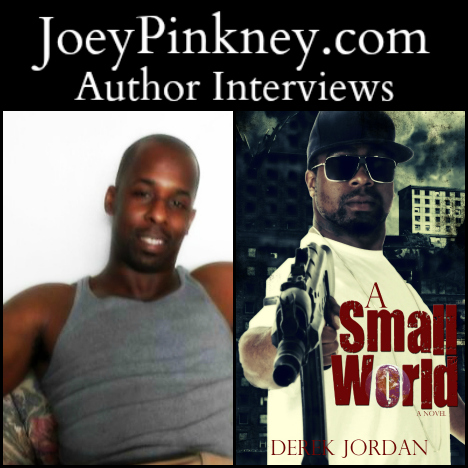 In Waterbury, Connecticut, twenty-seven-year-old Claude Porter is released after serving a ten-year prison sentence. He steps back into society with the intention of living a legal life. Jerome "Rocks" Watt's attempts to lure him back into his former criminal lifestyle.
After becoming gainfully employed, Claude gets fired for falsifying his information on the job application. Growing tired of penning applications in a gridlocked system not designed for ex-convicts, he embarks on a mission, alongside Rocks, to capture the American Dream by any means necessary.
Joey Pinkney: Where did you get the inspiration to write A Small World?
Derek Jordan: I got the inspiration to write A Small World from writing poetry, reading books of many genres and trying my own hand at it.
JP: What sets A Small World apart from other books in the same genre?
DJ: I believe it's my style of writing, flow and the level of suspense that A Small World carries.
JP: As an author, what are the keys to your success that led to A Small World getting out to the public?
DJ: The main keys to my success on getting A Small World out to the public is the ability to embrace the process, overcome boredom, and the application of a high level of persistence and faith.
JP: As an author, what is your writing process? How long did it take you to start and finish A Small World?
DJ: I always start with pen or pencil on white paper. That is my first draft. When I type it into my laptop, that's the second draft. Then I go over it, which is the third and final edit before professional editing takes place.
JP: What's next for Derek Jordan?
DJ: I am currently penning my next novel, Next of Kin: A Small World 2 should be ready in 2014. Many more will come year after year. A poetry book is always in the works.
http://www.facebook.com/brasscitypublishing
http://twitter.com/novelist42877
Paperback out this Summer!!
[include file=current-advertisers.html]