JoeyPinkney.com Exclusive Interview
5 Minutes, 5 Questions With…
Tavy Day author of Love X's 2
(Johnson Publications)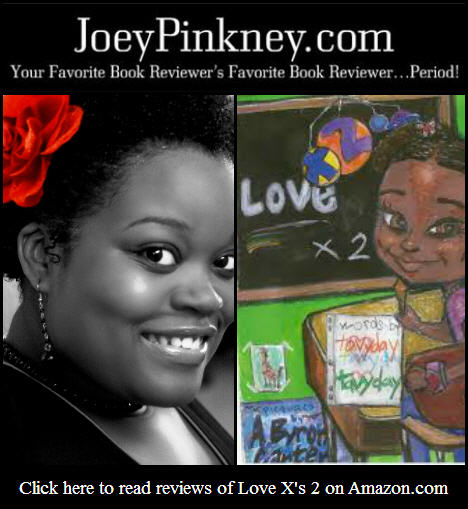 Love X's 2 fills the current gap of African-American children's literature addressing the challenges and rewards of single/co-parenting in a fast-paced world. It's a book that can be used repeatedly as a bedtime story and quiet-time picture book. Love X's 2 will soon reach reading lists of elementary classrooms in cities around the country.
Read in one sitting, Love X's 2 teaches young and newly single-parents and children valuable lessons while captivating their imaginations with lyrical, poetic prose. Sentences are short and simply constructed.
Joey Pinkney: Where did you get the idea and inspiration to write Love X's 2?
Tavy Day: Love X's 2 is loosely based on my personal experiences of raising a child who is fortunately, Loved X's 2, by having both myself and her father as (or appearing as) active parents.
JP: What sets Love X's 2 apart from other novels in its genre?
TD: In this story, the main character, 6 year old India, speaks with much intelligence and insight to her present situation. She is outspoken, without being disrespectful. She is African American, and so are her friends; their names reflect that. This story is very realistic, age appropriate, topic concise and URBAN! There is nothing like Love X's 2 on the market, and no matter what the culture, Co-Parenting relationships exist. This is the "in your face" proof.
JP: As an author, what are the keys to your success that lead to Love X's 2 getting out to the public?
TD: Re-released: I have the backing of Lati'a D. Johnson, Publishing CEO and mentor! She is very creative and full of "idea bulbs" that spontaneously pop on…
My Publicist Sharmina Ellis and I, are both the master keys to unlocking the success of Love X's 2. With her dedication to the project and business sense, I have no doubt in her ability to enhance the buzz behind an already awesome product. Me, I'm passionate about this topic and want to see it addressed in the best light possible, and that's through India's story. Horn tooting & all, I am TavyDay and my public a waits!
JP: As an author, what is your writing process? How long did it take for you to start and finish Love X's 2?
TD: I'm not sure if I so much have a process or just an impulse. Love X's 2 was written in one (several hour) sitting. The editing of course was much more in depth with creating a solid voice to the storyline. As a poet, I will tell supporters that I am an "I" poet. Most of my poems are about me, the people close to me, and the personal experiences of both. If it's not real (in some sense), I can't write about it. I believe this was the same mindset behind Love X's 2.
JP: What's next for Tavy Day?
TD: God willing; Oprah! I love that woman, and I bet she'll love me too!
Love X's 2 + 1: Coming Soon!
http://www.myspace.com/poeticfingaz
http://twitter.com/TavyDayOriginal
[include file=current-advertisers.html]