JoeyPinkney.com Exclusive Interview
5 Minutes, 5 Questions With…
Dawn L. Jackson, author of Break These Chains
(Self Published)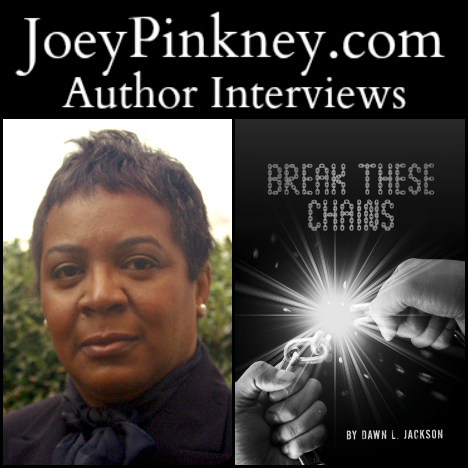 Break These Chains is the inspirational true story of the journey of Dawn L. Jackson. Despite growing up economically disadvantaged, she served honorably in the United States Army. She went on to graduate from Cheyney University of Pennsylvania and subsequently from Villanova University School of Law.
Ms. Jackson describes in detail her experience with battling the untreated severe depression associated with Post Traumatic Stress Disorder (PTSD). Her PTSD caused her to lose her license to practice law, and she became homeless.
She let her creator use her as a voice for those whose voices would otherwise go unheard. Dawn's story will make you laugh, cry, stand up and cheer, and above all else, be inspired.
Joey Pinkney: Where did you get the inspiration to write Break These Chains?
Dawn L. Jackson: I was inspired to write Break These Chains by my maternal grandmother. Because she lived in the South growing up, she did not attend school. Instead, she stayed home to help her mother sharecrop while her brothers and sisters went to school. As a result, she could neither read nor write. Continue reading 5 Minutes, 5 Questions With… Dawn L. Jackson, author of Break These Chains →