JoeyPinkney.com Exclusive Interview
5 Minutes, 5 Questions With…
M. Maitland DeLand, author of Nashville Mercy
(DeLand Media Group, LLC)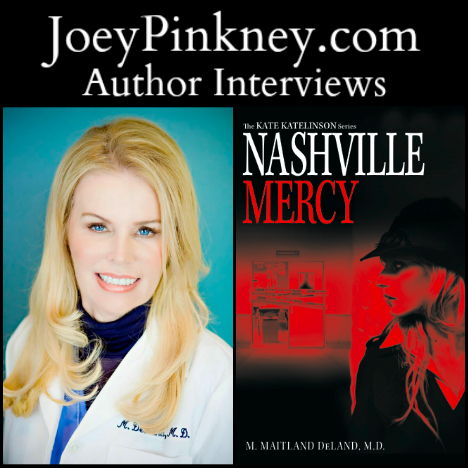 When a promising country music singer on the verge of stardom mysteriously dies after undergoing a routine medical procedure, Kate Katelinson, an investigative reporter for the Nashville Herald, becomes personally tied to the case. After sources connected to the reporter's investigation start dying, Kate finds herself thrust into a twisted labyrinth of betrayal, corruption, and murder.
Armed with only her investigative instincts and an unlikely alliance of friends, the reporter enters a terrifying game of cat-and-mouse with a mastermind more powerful than she could have ever anticipated. To complicate matters, Kate finds herself torn between her brilliant ex fiancé, and a charismatic hospital executive who both may be after more than her heart.
In her debut novel Nashville Mercy, Dr. M. Maitland DeLand takes readers through a rollercoaster ride of suspense while touching upon some of the most pressing social and healthcare issues of the 21st century.
Joey Pinkney: Where did you get the inspiration to write Nashville Mercy?
M. Maitland DeLand: Well, I started by writing children's books, and I used my medical knowledge as a physician to create books that were medically accurate, and my experience as an oncologist, dealing with young children, to create books that were easy for children to understand and not scary but honest. Continue reading 5 Minutes, 5 Questions With… M. Maitland DeLand, author of Nashville Mercy →