JoeyPinkney.com Exclusive Interview
5 Minutes, 5 Questions With…
K.D. Rose, author of I AM: Poetry in Motion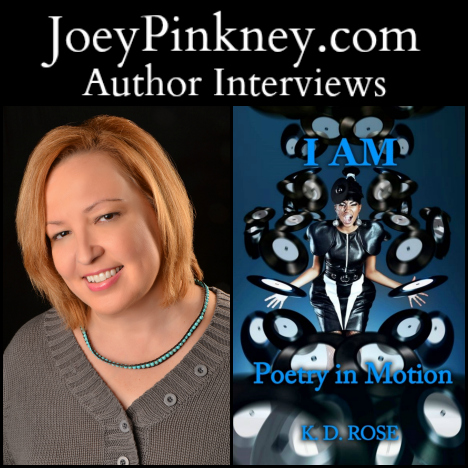 "I AM: Poetry in Motion" is for girls. This book is for women. This is a book to empower females from teenagers through adults.
Take this book and use it. The contents were made to keep us going through the tough times. Females, we undervalue ourselves. Easily. And we too easily believe how little we are worth.
This is not a book that has anything against men. But they can write their own book. And don't forget, we need to UN-bifurcate and take care of ourselves just as humans too. But this is a book for females.
I wanted especially to use pictures in a prominent way to tell some of our stories. Find ways to tell your own. Find the things that matter in life. Don't let anyone make you loosen your grip. Ever. You are all you have. Take good care of yourself.
Joey Pinkney: Where did you get the inspiration to write "I AM: Poetry in Motion"?
K.D. Rose: I've been writing all my life, but "I AM" is special. First, I became very interested in graphics and how powerful pictures can be – as opposed to my other books which have none. I got the idea that I really wanted to do a book where the pictures and the words worked together to tell a more profound story to the reader. Continue reading 5 Minutes, 5 Questions With… K.D. Rose, author of I AM: Poetry in Motion →