JoeyPinkney.com Exclusive Interview
5 Minutes, 5 Questions With…
Keith M. King, author of Crying, Through GOD'S Eyes
(Kingdom World Publications)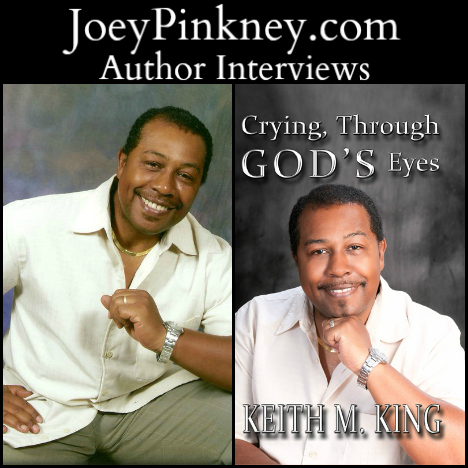 Crying, Through GOD'S Eyes has many different topics that were written to give hope to the hopeless situations in our lives. In this astonishing book, you will find answers to life's predicaments that may seem to weigh us down as we try to move forward from day to day.
As you read, you will learn how to tap into the hidden treasures that are within. Crying, Through GOD'S Eyes is filled with scriptures and explanations of what the scriptures are saying. My approach is positioned to assist you in reaching your full potential and to ensure that you fully understand that you are in charge of your own destiny.
Reading Crying, Through GOD'S Eyes will inform you that, in the bible, God has placed keys to prosperity, healing, peace, salivation, and all that we will ever need to become successful in all areas of our lives. Once you have read this book, your life will be transformed into receiving blessings, wealth, and prosperity and all that our Heavenly Father has made possible for us to receive and achieve.
Joey Pinkney: Where did you get the inspiration to write Crying, Through GOD'S Eyes?
Keith M. King: I was inspired through the Holy Spirit to write Crying, Through GOD'S Eyes. After I was baptized in the Holy Spirit in 1992, I always had a passion to help other people. As part of my great mission to help others, the Holy Spirit prompted me to write this book. Continue reading 5 Minutes, 5 Questions With… Keith M. King, author of Crying, Through GOD'S Eyes →