JoeyPinkney.com Exclusive Interview
5 Minutes, 5 Questions With…
Agyei Ekundayo, author of Hindsight is 20/20: How an African American Girl Grows Up Mentally Ill and is Dead Last to Find Out
(CreateSpace)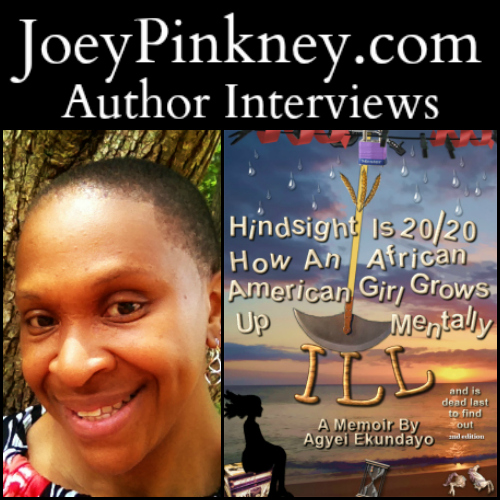 Hindsight is 20/20 is a twisted maze of undiagnosed mental illness, misdiagnosis and patient abuse. This novel is a sordid conundrum of generational dysfunction, self-sabotage, and in some cases, unbridled erotica.
What do you get when you mix ten doctors, thirteen prescriptions, and five psych wards? You become immersed in the complex mood swings of a volatile teenager that eventually spirals into the full on madness of a suicidal adult. Hindsight is 20/20 is a cogent analysis of a burdened healthcare systems' many fractured components to the extent that it dismantles the lives of everyday people.
Readers will get a hawks' eye glimpse into the daily struggles of life with mental illness, the crippling effects of early childhood trauma, transcribed notes from a transgender woman's experience with hospital neglect and a hilarious series of romantic fails.
Joey Pinkney: Where did you get the inspiration to write Hindsight is 20/20?
Agyei Ekundayo: I wrote Hindsight is 20/20 out of frustration and anger. I got tired of being funneled from one broken system to the other. Therapists disagreed with one another and took out their incompetencies on my medical records. Continue reading 5 Minutes, 5 Questions With… Agyei Ekundayo, author of "Hindsight is 20/20: How an African American Girl Grows Up Mentally Ill and is Dead Last to Find Out" →