JoeyPinkney.com Exclusive Interview
5 Minutes, 5 Questions With…
Missy B. Salick, author of Claiming Jeremiah
(J.J. Autumn Publishing)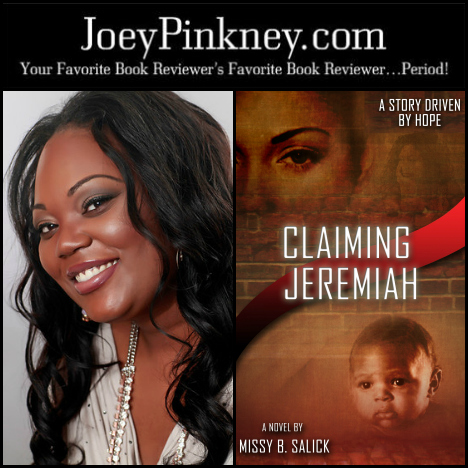 On the same night that twenty four-year-old Jordyn Sims has a miscarriage, her sister-in-law Tori Sims conceives a child. Nine months later, Tori, a long term heroin addict, abandons her two-hour-old drug addicted newborn Jeremiah, in a hospital stairwell.
Jordyn receives the news and pursues foster adoption. However, Oscar, Tori's possessive drug-addicted boyfriend, is not about to give Jeremiah up so easily.
With all odds against her adoption of Jeremiah, and her pregnancy at high risk from increasing stress, will Jordyn win this tough battle, or will her world crumble before her?
Joey Pinkney: Where did you get the inspiration to write "Claiming Jeremiah"?
Missy B. Salick: "Claiming Jeremiah" is a fictional memoir, based loosely off of my personal experience to foster-adopt my son. Through the foster adoption process, there was many times I felt alone and wish there was a book or somewhere I could turn to for insight. Continue reading 5 Minutes, 5 Questions With… Missy B. Salick, author of Claiming Jeremiah →