JoeyPinkney.com Exclusive Interview
5 Minutes, 5 Questions With…
M.J. Rose, author of Seduction
(Atria/S&S)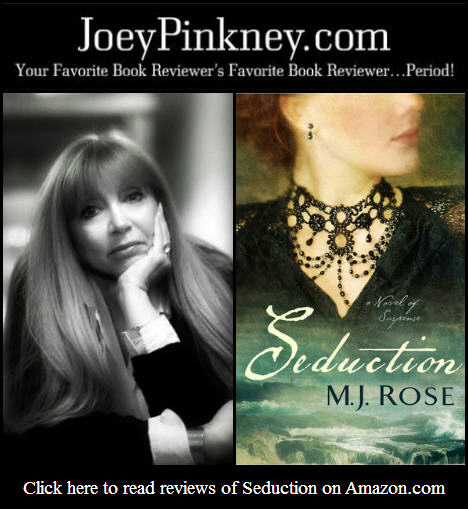 Seduction is a gothic tale about Victor Hugo's long-buried secrets and the lengths we go to for love…
In 1843, novelist Victor Hugo's beloved nineteen-year-old daughter drowned. Ten years later, still grieving, Hugo initiated hundreds of séances from his home on the Isle of Jersey in order to reestablish contact with her. In the process, he claimed to have communed with Plato, Galileo, Shakespeare, Dante, Jesus—and even the Devil himself. Hugo's transcriptions of these conversations have all been published.
Or so it has been believed…
Recovering from a great loss, mythologist Jac L'Etoile thinks that throwing herself into work will distract her from her grief. In the hopes of uncovering a secret about the island's mysterious Celtic roots, she arrives on the Isle of Jersey and is greeted by ghostly Neolithic monuments, medieval castles, and hidden caves.
But the man who's invited her there, a troubled soul named Theo Gaspard, hopes she'll help him discover something quite different—transcripts of Hugo's lost conversations with someone he called the Shadow of the Sepulcher. Central to his heritage, these are the papers his grandfather died trying to find.
But what neither Jac or Theo anticipate is that the mystery surrounding Victor Hugo will threaten their sanity and put their very lives at stake.
Joey Pinkney: Where did you get the inspiration to write "Seduction"?
M.J. Rose: Reading a biography of Victor Hugo.
JP: What sets "Seduction" apart from other books in the same genre?
MJR: "Seduction" is a mix of quite a few genres, so that makes it different. I think this review in Shelf-Awareness says it better than I can: Continue reading 5 Minutes, 5 Questions With… M.J. Rose, author of Seduction →