JoeyPinkney.com Exclusive Interview
5 Minutes, 5 Questions With…
Quigley Castle, author of Camille's Bi-Curious Birthday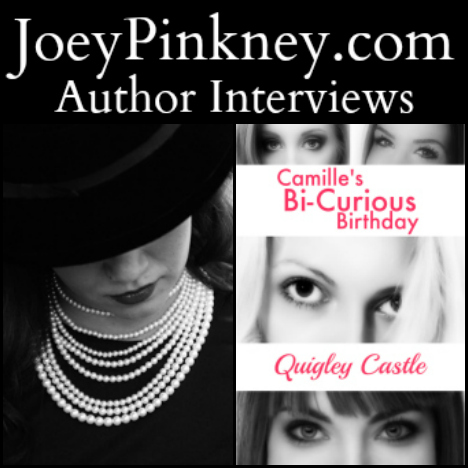 Camille is turning the big three-O in just a few hours, and her three best friends ask her what she wants for her birthday. They are utterly shocked when Camille answers, "A threesome," because as far as they've always known Camille was a square, a nerd, a geek and a goody-two-shoes all roll into one, little uptight petite package. Will Camille get her birthday wish?
Joey Pinkney: Where did you get the inspiration to write Camille's Bi-Curious Birthday?
Quigley Castle: The inspiration came from a thought I had when I was watching "Orange is the New Black" on Netflix. I thought to myself, "What would a lesbian experience be like for me?" I'm positive that I'm heterosexual, but it was fun to think about what it would be like to be with a woman. Camille's Bi-Curious Birthday is my idea of what it would be like to have a lesbian experience with my closest girlfriends. Continue reading 5 Minutes, 5 Questions With… Quigley Castle, author of Camille's Bi-Curious Birthday →