JoeyPinkney.com Exclusive Interview
5 Minutes, 5 Questions With…
Keith Kareem Williams, author of Tourniquet
(Self-Published)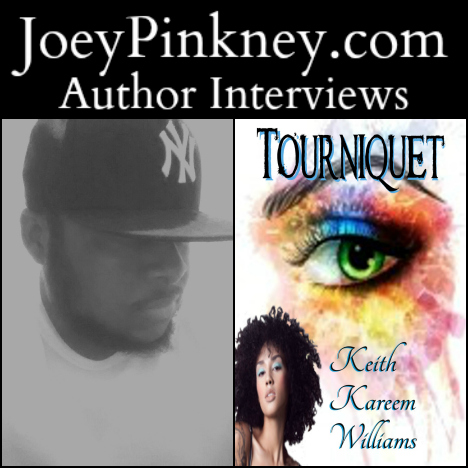 Tourniquet is about a young couple, Angela and Gavin, who have very different home lives. They are both trying to navigate through very different but equally difficult, circumstances.
Gavin finds himself completely alone after his father's death, and Angela is forced to be the woman of the house while battling an abusive step-father because her mother's job keeps her away from home.
Gavin and Angela are also misfits that don't fit in with most people their age, but somehow, they've found a deep connection to each other.
Joey Pinkney: Where did you get the inspiration to write Tourniquet?
Keith Kareem Williams: Angela and her mother, Josephine, first appeared as side-characters in my novel War Angel. Their story was so powerful that I felt the need to revisit it to write about what their life had become, years after the tragic events that took place in that book. I've known so many women that have experienced what Angela goes through that I felt compelled to tell the story. Continue reading 5 Minutes, 5 Questions With… Keith Kareem Williams, author of Tourniquet →