JoeyPinkney.com Exclusive Interview
5 Minutes, 5 Questions With…
M. Pierce, author of Night Owl
(St. Martin's Press / Macmillan)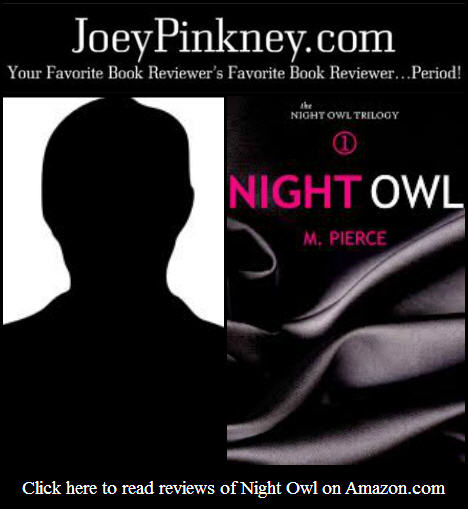 "Night Owl" tells the story of two strangers — Matthew Sky and Hannah Catalano — who meet online as writing partners. Their relationship is safe and anonymous. When Hannah slips up and sends Matt an email with her name and picture, everything changes.
Matt is drawn to Hannah inexorably and, despite Matt's many secrets, the two soon begin a heated real life romance. When Matt's secrets come to light, Matt and Hannah's love is put to the test.
Joey Pinkney: Where did you get the inspiration to write "Night Owl"?
M. Pierce: I got the inspiration for "Night Owl" from a girl and from my life. That's really all I can say.
JP: What sets "Night Owl" apart from other books in the same genre?
MP: I don't read much erotic romance, so I'm unsure of all the cliches. "Night Owl" is really a love story. It avoids much of the power play associated with post-50-Shades romance novels.
Hannah and Matt have a passionate romantic connection that's pretty explicitly depicted throughout "Night Owl". While Matt loves being in control, the novel also portrays his fragility and need for Hannah.
And, you know, he's not a billionaire CEO, so there's that.
JP: As an author, what are the keys to your success that led to "Night Owl" getting out to the public?
MP: The book blogs really helped me — Maryse, Aestas, True Story Book Blog, Schmexy Girl Book Blog, Totally Booked. That's just to name a few.
I also integrate social media into my online platform so that I can be in touch with readers.
Writing a readable book helped, too. It stood out for readers, moved them to write reviews and support me, so I'm happy about that and very humbled.
JP: As an author, what is your writing process? How long did it take you to start and finish "Night Owl"?
MP: It took me about two months to write and edit "Night Owl". My process at the time was to wake up before work and write as much as I could, then write some more when I got home. I wrote practically around the clock.
Now my process is similar, except I've quit my day job. I basically get up and write all day.
JP: What's next for M. Pierce?
MP: I've signed a book deal with St. Martin's for the "Night Owl" Trilogy, so I'm currently writing book two, titled "Last Light". After that, of course, I'll write book three. And then? Time will tell.
http://facebook.com/pages/M-Pierce/174553066083258
http://twitter.com/mpiercefiction
http://www.goodreads.com/user/show/23701394-m-pierce
http://pinterest.com/mpiercefiction/
[include file=current-advertisers.html]