JoeyPinkney.com Exclusive Interview
5 Minutes, 5 Questions With…
Rochelle Carter, author of The Seven Step Guide to Authorpreneurship
(EverFaith Press)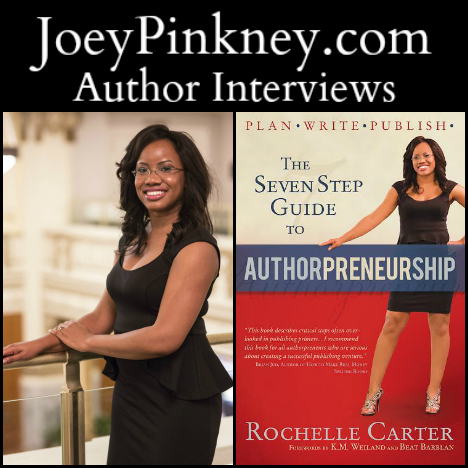 These seven steps are for every writer who has completed their first draft and wonders, "What next?"
With detailed guidance and tons of information, The 7-Step Guide to Authorpreneurship describes critical steps often overlooked in publishing primers. If you are serious about creating a successful publishing venture, then first read this book and keep it as a reference as you follow the steps.
Joey Pinkney: Where did you get the inspiration to write The Seven Step Guide to Authorpreneurship?
Rochelle Carter: Working with my authors, I found that it would be helpful to have a comprehensive guide on both the publishing process AND what authors an do to during the process. Without having anything as detailed and informative as I would like on the market, I was inspired to write the book myself.
JP: What sets The Seven Step Guide to Authorpreneurship apart from other books in the same genre?
RC: In a market flooded with advice for writers, there are very few books merging the concept of being an author and an entrepreneur. The 7-Step Guide to Authorpreneurship is the first to truly take authors from concept to execution. The end result is a blending of the entrepreneurial spirit with writing talent to create a successful business achieving the personal and professional goals writers aim for.
JP: As an author, what are the keys to your success that lead to The Seven Step Guide to Authorpreneurship getting out to the public?
RC: The primary keys to my success were understanding the publishing industry, process, and following the steps outlined in The 7-Step Guide to Authorpreneurship.
I am a very extroverted introvert, so my initial reaction to finishing the book was to launch quietly only to my authors. Then I gave myself a kick in the pants and go on with the business of launching a book successfully. With a great editor and a great marketing team, by launch day I had what I needed to be confident in talking about my book and referencing endorsements that support the guidelines in my book.
JP: As an author, what is your writing process? How long did it take you to start and finish The Seven Step Guide to Authorpreneurship?
RC: I wrote my book business plan first, identifying my goals and my promise to the readers. Everything after was built around this plan, and it helped my editors to be very effective in working with me. Overall, it took about 2-3 months to create my draft and 3 months to edit and get ready for publication.
JP: What's next for Rochelle Carter?
RC: I am currently working with my business and JV partners to continue providing premium self-publishing services, launch my "Brand Your Expertise with a Book" training and retreat, and a three-part Master Series in Christian Authorpreneurship to specifically guide authors of inspirational work from writing to publishing to marketing.
http://twitter.com/RochelleDCarter
http://facebook.com/authorpreneur
http://google.com/+RochelleCarterPublisher
http://www.linkedin.com/in/rochellecarter/
http://www.brandyourexpertisewithabook.com/
[include file=current-advertisers.html]