JoeyPinkney.com Exclusive Interview
5 Minutes, 5 Questions With…
Sherrod Tunstall, author of The Show Me State
(La Femme Fatale Publishing)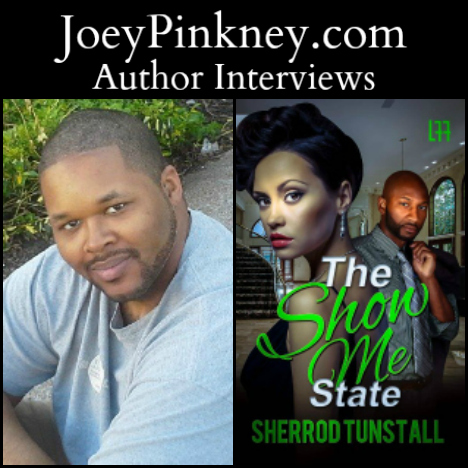 She's every man's fantasy and every chick hates her, but they still want to be her and live her life.
Meet Lauren Wilcox, the original "Queen of The Lou." She's blessed with great beauty, phenomenal writing abilities, sex skills out of this world, and that platinum "good-good." This is also her curse. She uses her body, her skills and her beauty to get what she wants and to ease her heart of stone which has been broken over and over again.
She meets her match in Gino, a love sick gangster. As they grow closer and their love becomes stronger, their past, their old enemies and their friends will do anything necessary, including murder, to keep them apart.
JoeyPinkney: Where did you get the inspiration to write The Show Me State?
Sherrod Tunstall: I got the inspiration to write The Show Me State after writing my debut novel, Spicy. I loved the bar scene I did with Lauren and Gino in Spicy. I just had to continue their sexual chemistry and give them their own story.
JP: What sets The Show Me State apart from other books in the same genre?
ST: I call myself an "organic writer." I love mixing different genres together in my books. My writing is like gumbo. I love to put suspense, romance, a little thriller, a touch of erotica, a hint of mystery and plenty of urban fiction in my books.
JP: As an author, what are the keys to your success that lead to The Show Me State getting out to the public?
ST: I mail my flyers to different bookstores, hand my flyers out to the public and sell my work on the street like E. Lynn Harris did back in the day. I go to where the women are. I do many book signing and appearances as I can.
For Spicy, I did a signing for my dad's group, Electrical Workers Minority Caucus. Today in this industry, you have to really think outside the box. In the end, it was worth it. I did as many newspaper and online interviews as I could. Social media websites like Facebook, Twitter and Instagram are also important. Networking is a big key in this business.
JP: As an author, what is your writing process? How long did it take you to start and finish The Show Me State?
ST: I always start with my main characters first, usually a male and a female. I write their descriptions, what they do for a living and their dilemmas through out the book. The Show Me State took me about a year and a half to write. I started writing it in September 2009 and finished it February 2011.
JP: What's next for Sherrod Tunstall?
ST: I recently completed my third full-length novel, Black Reign. It's set in the music industry. I'm working on book four and five. I also hope write books for children and young adults in the future.
http://sherrod1.wix.com/sherroddaauthor
https://twitter.com/sherroddaauthor
https://www.facebook.com/sherrodtheauthor
http://www.linkedin.com/pub/sherrod-j-tunstall/3b/519/695
http://instagram.com/sherroddaauthor
"I am the Amazon Bestselling author of the book Spicy that was released on November 25, 2013. It's available on La Femme Fatale Publishing's website, Amazon, Barnes & Noble, Books-A-Million, The Booksellers at Laurelwood, Black Visions Books and Gift Baskets, Medu Bookstore, Nubian Bookstore and at Eric L. Myrieckes' new bookstore in Salisbury, Maryland, Urban Oasis." ~ Sherrod Tunstall
[include file=current-advertisers.html]