JoeyPinkney.com Exclusive Interview
5 Minutes, 5 Questions With…
C. S. Lakin, author of A Thin Film of Lies
(Ubiquitous Press)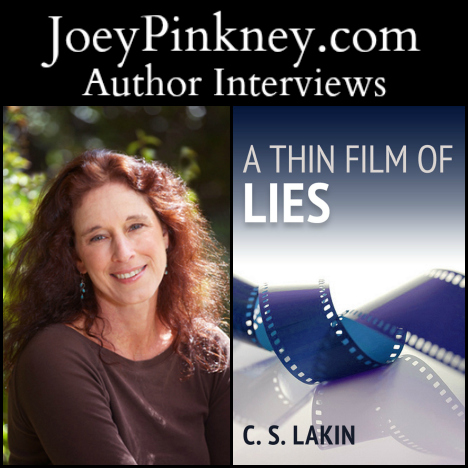 "A Thin Film of Lies" is a faith-based crime thriller that will keep you on the edge of your seat!
Homicide detective Fran Anders's latest case throws her into the lives of Mike and Alisa Jepson, a couple whose marriage is disintegrating fast. When leads coming into the precinct point at Mike Jepson as guilty of murder, Fran watches the damage wrought on this couple, yet is unable to ignore the incriminating evidence.
When Mike ends up arrested and in jail, Alisa takes comfort in a friend–Dee Dee–who moves in with her but soon becomes her worst nightmare. Mike hires a PI who uncovers clues to who is setting Mike up, but Alisa is caught in a trap before Mike can protect her.
Joey Pinkney: Where did you get the inspiration to write "A Thin Film of Lies"?
C. S. Lakin: "A Thin Film of Lies" was inspired by personal experience. I had gotten a job in LA at a desperate time in my life, when I had a young child and needed the money. I only worked at this place about a week when I was wrongly accused and fired. It upset me greatly, and I thought about people going postal, pushed to the edge of their sanity, so thought of writing a novel based on this.
I first wrote "A Thin Film of Lies" for the general market and after years of being unable to sell it, rewrote it for the Christian market, featuring a female homicide detective who is a believer.
JP: What sets "A Thin Film of Lies" apart from other books in the same genre?
CSL: My books are all edgy and intense. I believe in portraying real characters with real problems that are not easily solved. I wanted to do a crime thriller that showed a cop led by faith by trapped by the system, yet who saw God able to work through the boundaries.
"A Thin Film of Lies" is not a typical Christian novel but is very faith-based, and I hope nonbelievers will find it realistic and inspiring.
JP: As an author, what are the keys to your success that led to "A Thin Film of Lies" getting out to the public?
CSL: I just keep writing books that feature important themes and issues, and try to portray realistic characters.
JP: As an author, what is your writing process? How long did it take you to start and finish "A Thin Film of Lies"?
CSL: It depends on my time. Right now I work full-time, but I'm writing a novel in the evenings. By pushing, it will take me three months to write a novel from start to finish.
Most of the novels I've written I've done so writing all day every day. Since I need to work full-time right now, it's more of a challenge.
JP: What's next for C. S. Lakin?
CSL: I'm finishing up a historical romance, which I plan to release next month. I have more books in that series. Eventually, I'd like to write more books to follow up "A Thin Film of Lies", with Fran Anders, detective, as the key character. I am finishing up book seven in my fantasy series with AMG right now as well.
http://www.livewritethrive.com
http://www.critiquemymanuscript.com
http://facebook.com/c.s.lakin.author
"I love helping writers become successful authors, working as a writing coach and copyeditor." ~ C.S. Lakin
[include file=current-advertisers.html]