JoeyPinkney.com Exclusive Interview
5 Minutes, 5 Questions With…
C. S. Lakin, author of A Thin Film of Lies
(Ubiquitous Press)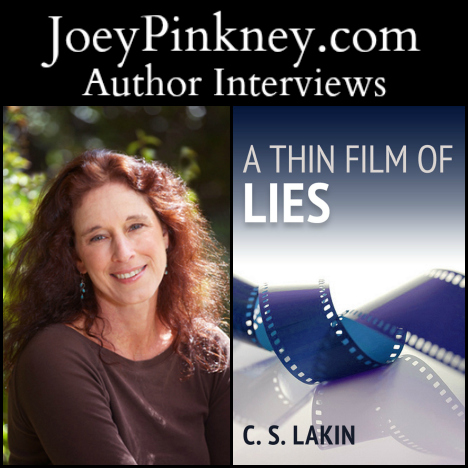 "A Thin Film of Lies" is a faith-based crime thriller that will keep you on the edge of your seat!
Homicide detective Fran Anders's latest case throws her into the lives of Mike and Alisa Jepson, a couple whose marriage is disintegrating fast. When leads coming into the precinct point at Mike Jepson as guilty of murder, Fran watches the damage wrought on this couple, yet is unable to ignore the incriminating evidence.
When Mike ends up arrested and in jail, Alisa takes comfort in a friend–Dee Dee–who moves in with her but soon becomes her worst nightmare. Mike hires a PI who uncovers clues to who is setting Mike up, but Alisa is caught in a trap before Mike can protect her.
Joey Pinkney: Where did you get the inspiration to write "A Thin Film of Lies"?
C. S. Lakin: "A Thin Film of Lies" was inspired by personal experience. I had gotten a job in LA at a desperate time in my life, when I had a young child and needed the money. I only worked at this place about a week when I was wrongly accused and fired. It upset me greatly, and I thought about people going postal, pushed to the edge of their sanity, so thought of writing a novel based on this. Continue reading 5 Minutes, 5 Questions With… C. S. Lakin, author of A Thin Film of Lies →