JoeyPinkney.com Exclusive Interview
5 Minutes, 5 Questions With…
Desiree Future, author of It's A New Season
(Self Published)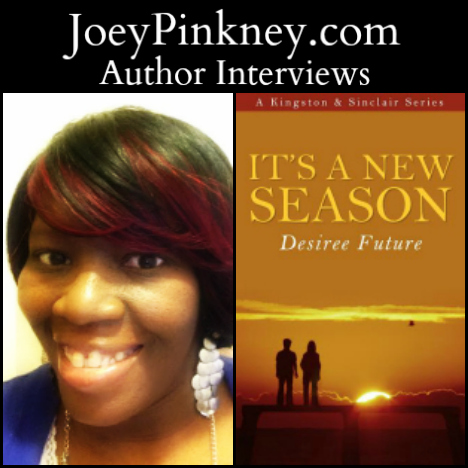 It's A New Season is the continuation of the beautiful love story The Pastor's Heart, which is now a part of A Kingston & Sinclair Series." It picks up where newly married main characters Pastor Kingston Carter and Sinclair Madison left off.
The unlikely couple continues to build their own professional businesses, as they had done before marrying. Hardworking Sinclair strives to make her agency, Aged Out Foster Care Inc., more reachable to former foster care kids now turned adults in need of assistance. Family man Kingston is constantly helping to grow his family-owned grocery store, Carter Market, as well as their church Christ the Lord Fellowship.
In the midst of the two sharing their heart and love for one another, something comes crashing into their blissful world. One of the two will have their padlocked closets forced opened. The contents that spill will wreak havoc into the lives of the pastor and his first lady.
With the battle of David and Goliath standing at their front door, it's hard to see who will remain standing if and when that door finally closes.
Joey Pinkney: Where did you get the inspiration to write "It's A New Season"?
Desiree Future: My audience gave me the inspiration to write It's A New Season. I had only intended to write one book. However, my readers had another plan. Within a week of releasing The Pastor's Heart, my audience immediately started requesting a sequel. Having receiving so many requests, I simply sat down and started writing It's A New Season.
JP: What sets "It's A New Season" apart from other books in the same genre?
DF: I believe what makes It's A New Season different from others is the fact that I deal with real every day issues both good and bad in my books. I write about situations that people are dealing with on a daily basis. By bringing those real situations to the forefront, I can possibly help someone who is dealing with the same thing. I can also give them a great story to enjoy at the same time.
JP: As an author, what are the keys to your success that led to "It's A New Season" getting out to the public?
DF: I say this in every interview I do because I live by it. I network and network and network even more. In this growing business, I believe that you have to let people know not just who you are but what you are. Who I am is Desiree Future, and what I am is an author who listens to her audience. The more they reply by their reviews and personal emails whether good or bad, the better I can perfect my writing skills to bring them great books to enjoy for the future.
JP: As an author, what is your writing process? How long did it take you to start and finish "It's A New Season"?
DF: My writing process is very unusual, but it works for me. It's like putting together a huge puzzle whether there are a thousand pieces all over the place. And I never start from the beginning, I just write.
JP: What's next for Desiree Future?
DF: I am currently working on Book 3 in the A Kingston & Sinclair Series. It is expected to be released in mid-2015. I am also booking book events where I will be appearing for signings and sales in 2015. I am also in talks to do a number of interviews online as well.
http://facebook.com/authordesiree.future
http://twitter.com/Desiree_Future
http://linkedin.com/pub/desiree-future/a/981/443
http://plus.google.com/109464967033936441712
http://goodreads.com/author/show/7012170.Desiree_Future
"I have been told many times before the my name sounds like it is unreal. Let me assure that I am as real as they come. And I do plan on staying in this literary field for a very long time. So keep your eyes and ears open because you never know where I might turn up while promoting my books. See you on the next go round." ~ Desiree Future
[include file=current-advertisers.html]