JoeyPinkney.com Exclusive Interview
5 Minutes, 5 Questions With…
Desiree Future, author of It's A New Season
(Self Published)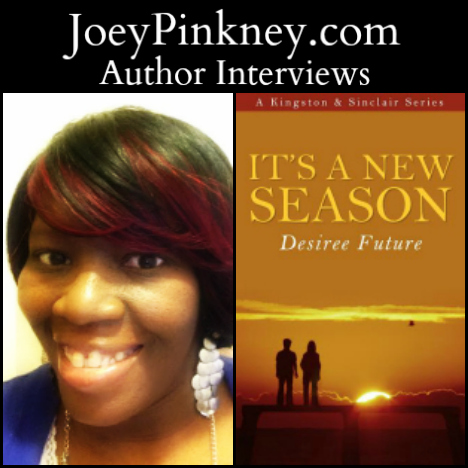 It's A New Season is the continuation of the beautiful love story The Pastor's Heart, which is now a part of A Kingston & Sinclair Series." It picks up where newly married main characters Pastor Kingston Carter and Sinclair Madison left off.
The unlikely couple continues to build their own professional businesses, as they had done before marrying. Hardworking Sinclair strives to make her agency, Aged Out Foster Care Inc., more reachable to former foster care kids now turned adults in need of assistance. Family man Kingston is constantly helping to grow his family-owned grocery store, Carter Market, as well as their church Christ the Lord Fellowship.
In the midst of the two sharing their heart and love for one another, something comes crashing into their blissful world. One of the two will have their padlocked closets forced opened. The contents that spill will wreak havoc into the lives of the pastor and his first lady.
With the battle of David and Goliath standing at their front door, it's hard to see who will remain standing if and when that door finally closes.
Joey Pinkney: Where did you get the inspiration to write "It's A New Season"?
Desiree Future: My audience gave me the inspiration to write It's A New Season. I had only intended to write one book. However, my readers had another plan. Within a week of releasing The Pastor's Heart, my audience immediately started requesting a sequel. Having receiving so many requests, I simply sat down and started writing It's A New Season. Continue reading 5 Minutes, 5 Questions With… Desiree Future, author of It's A New Season →