JoeyPinkney.com Exclusive Interview
5 Minutes, 5 Questions With…
James Scott, author of Buffalo City Czar
(Prodigy Publishing Group)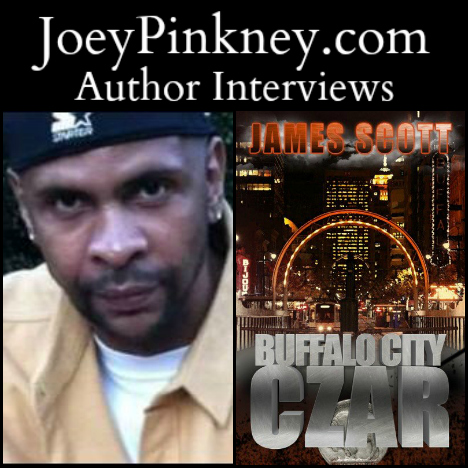 "Buffalo City Czar" is a crime novel. It details the story of a fictitious New York crime family syndicate in Buffalo City (and Cleveland, Ohio) headed by Cesare, who became synonymous with the Black Syndicate Organization. The novel covers the late nineties and also provides the back story of Cesare from early childhood to adulthood.
Joey Pinkney: Where did you get the inspiration to write "Buffalo City Czar"?
James Scott: I was inspired to write "Buffalo City Czar" after spending eight years in prison. As a product of my environment, I truly believed that my criminal life was how life was supposed to be. I was wrong.
I quickly became determined not to become a jail-house statistic, I read, worked, went to school and worked out. I conditioned myself to a daily routine that changed my life. Despite what people may have heard about prison, I got an education, a piece of mind and an opportunity to start my life over for the better.
JP: What sets "Buffalo City Czar" apart from other books in the same genre?
JS: What I believe sets my book apart from the rest is its real-life, everyday events. "Buffalo City Czar" has things in it that happen not only in the black communities, but all communities.
I also like to give my readers a deep identification with my characters. I make them feel like they know them or someone like them. "Buffalo City Czar" is a novel that will have you turning page after page. When you're done, you'll be wanting to know what happens next.
JP: As an author, what are the keys to your success that led to "Buffalo City Czar" getting out to the public?
JS: The keys to my success are my determination and hard work, being open to criticism, willing to listen and make drastic changes in my style of writing.
JP: As an author, what is your writing process? How long did it take you to start and finish "Buffalo City Czar"?
JS: "Buffalo City Czar" took me six month to write and six years to perfect. This is mainly because I was in the beginning stages of my writing craft and did not put forth a %100 effort at the time.
JP: What's next for James Scott?
JS: Over the period of my eight-year prison sentence, I have written several books. I hope to see them published within the next three years.
http://www.prodigypublishinggroup.com/

http://www.facebook.com/authorjamesscott
http://twitter.com/JamesScott000
"There are many things in life that are inevitable, and we are powerless to control them. Our destiny is preordained. Our God has planned our course. Our future lies in the unconditional power of faith. What do you believe in?" ~ James Scott, author of "Buffalo City Czar"
[include file=current-advertisers.html]