JoeyPinkney.com Exclusive Interview
5 Minutes, 5 Questions With…
Janie De Coster, author of Frienemies: A Line Between Love and Hate
(G Street Chronicles)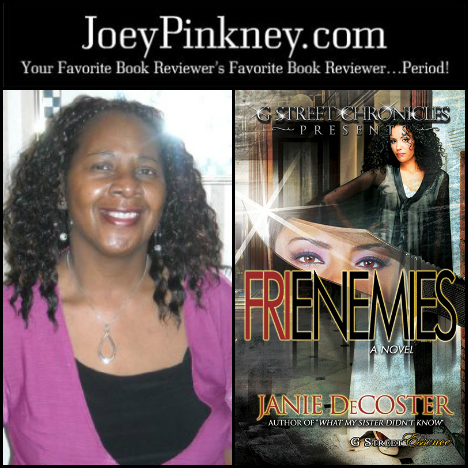 Natasha Jacobs is a successful young woman who works for one of Atlanta's most successful marketing firms, Emerson & Stuckey. Sloan Stevens is an ambitious young man working his way up the corporate ladder at Emerson & Stuckey.
Sloan and Natasha have been friends since third grade, and their families and friends suspect that they harbor feelings for each other that run deeper than friendship. But Natasha and Sloan are determined to prove their friends wrong and find true love after leaving a string of unsuccessful relationships in their wake.
Opportunity presents itself in the form of two new coworkers, Essence Kirkland and Derrick Perkins. But when Essence and Derrick turn up the heat, things threaten to boil over and turn true friends into enemies. Will this be a recipe for true love between friends or a poisoned dish that will cost one friend their very life?
Joey Pinkney: Where did you get the inspiration to write Frienemies: A Line Between Love and Hate?
Janie De Coster: I got the inspiration to write Frienemies while a friend and I chatted about relationships. The topic was backstabbers and how you couldn't trust the very ones you had faith in. That is how Frienemies began.
JP: What sets Frienemies: A Line Between Love and Hate apart from other books in the same genre?
JDC: In my writing, I not only want to entertain the reader, but I also like to bring awareness to a certain topic. My topic in Frienemies ask the question can men and women really be "just friends." So my novel goes beyond the story as it engages the readers to think and form opinions about what they are reading.
JP: As an author, what are the keys to your success that led to Frienemies: A Line Between Love and Hate getting out to the public?
JDC: The keys to my success is being persistent. I believe in myself, and I have confidence in my writing. I am not afraid to get out there and do what is needed to reach the goal I've set for Frienemies as well as my previous novels and those to come.
JP: As an author, what is your writing process? How long did it take you to start and finish Frienemies: A Line Between Love and Hate?
JDC: Well the process is pretty much easy. I usually gets up early in the morning while everyone else is still asleep and write a few pages. I prefer early mornings because I can't write in the evenings. I am too distracted with my evening shows such as Atlanta Housewives, The Braxtons and so on.
Frienemies took me about six months to write. But as all authors know,your book is far from being finish.There are so many rounds of edits you have to go through to have a polish book.
JP: What's next for Janie De Coster?
JDC: My novel Broken Commandments with Parker Publishing will be release in March 2012.
http://facebook.com/ search Janie De Coster
http://twitter.com/janiedecoster
[include file=current-advertisers.html]