JoeyPinkney.com Exclusive Interview
5 Minutes, 5 Questions With…
Janie De Coster, author of Frienemies: A Line Between Love and Hate
(G Street Chronicles)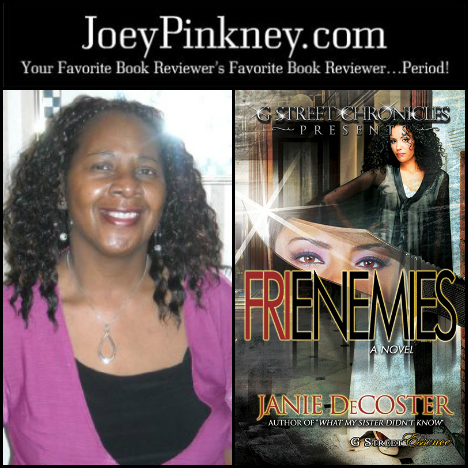 Natasha Jacobs is a successful young woman who works for one of Atlanta's most successful marketing firms, Emerson & Stuckey. Sloan Stevens is an ambitious young man working his way up the corporate ladder at Emerson & Stuckey.
Sloan and Natasha have been friends since third grade, and their families and friends suspect that they harbor feelings for each other that run deeper than friendship. But Natasha and Sloan are determined to prove their friends wrong and find true love after leaving a string of unsuccessful relationships in their wake.
Opportunity presents itself in the form of two new coworkers, Essence Kirkland and Derrick Perkins. But when Essence and Derrick turn up the heat, things threaten to boil over and turn true friends into enemies. Will this be a recipe for true love between friends or a poisoned dish that will cost one friend their very life?
Joey Pinkney: Where did you get the inspiration to write Frienemies: A Line Between Love and Hate?
Janie De Coster: I got the inspiration to write Frienemies while a friend and I chatted about relationships. The topic was backstabbers and how you couldn't trust the very ones you had faith in. That is how Frienemies began. Continue reading 5 Minutes, 5 Questions With… Janie De Coster, author of Frienemies: A Line Between Love and Hate →