JoeyPinkney.com Exclusive Interview
5 Minutes, 5 Questions With…
Nick C. Roberts, author of The Glass House Killer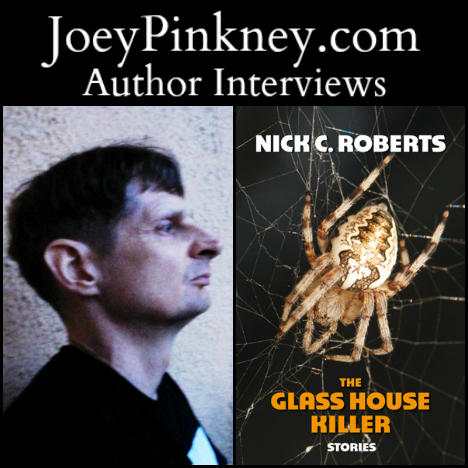 "The Glass House Killer" is a collection of thirteen, suspenseful short stories that illustrate the darkness, the violence and the raw emotion that lurk below the surface of everyday lives. The stories explore themes such as abuse, infatuation, mental illness and revenge.
Joey Pinkney: Where did you get the inspiration to write "The Glass House Killer"?
Nick C. Roberts: I've lived in four different countries, met all kinds of weird and wonderful people, and had a wide range of experiences. The inspiration for my stories comes from those people and experiences in those different places and cultures.
JP: What sets "The Glass House Killer" apart from other books in the same genre?
NCR: I think the fact that my stories take place in offbeat locations like Helsinki, Finland, Brisbane, Australia and the Highlands of Scotland, sets me a little apart from the rest.
I also feel that because I have a keen eye for a person's eccentricities or peculiarities, I'm able to weave these into my stories in a unique way.
JP: As an author, what are the keys to your success that led to "The Glass House Killer" getting out to the public?
NCR: I started off with family and friends, getting their reaction to my books, asking them to use good old word-of-mouth to advertise them. I've made use of the fact that I've lived in different countries and have friends there to help spread the word as far and wide as possible.
It soon became clear that a strong social media presence is important as well, so I've been working hard on that, trying to get books I have a lot of confidence in, in front of as many people as possible. That's the reason I'm here too!
JP: As an author, what is your writing process? How long did it take you to start and finish "The Glass House Killer"?
NCR: I get an idea for a story from an incident I've been involved in, a character I've seen/met, or a story I've heard about. Sometimes, I get an idea from a dream and write it down on waking! (I keep a pen and paper on my night table.)
I jot down notes, then decide how the book/story is going to end. I can't begin the story until I'm sure of the ending. Then I work my way through the story, writing for about 2-3 hours per day with lots of re-reading, editing etc. "The Glass House Killer" took around eight months to complete.
JP: What's next for Nick C. Roberts?
NCR: I've just started my next full-length suspense thriller. It's a chilling tale of obsession, jealousy and murder set in a northern English town, close to my roots.
http://facebook.com/pages/Nick-C-Roberts/310272759084376
http://twitter.com/robertsnickc
https://plus.google.com/108269235868316895293/posts
http://www.pinterest.com/ncrobs/boards/
[include file=current-advertisers.html]