JoeyPinkney.com Exclusive Interview
5 Minutes, 5 Questions With…
Nicole Bradshaw, author of A Bond Broken
(Strebor Books Int'l/Simon & Schuster)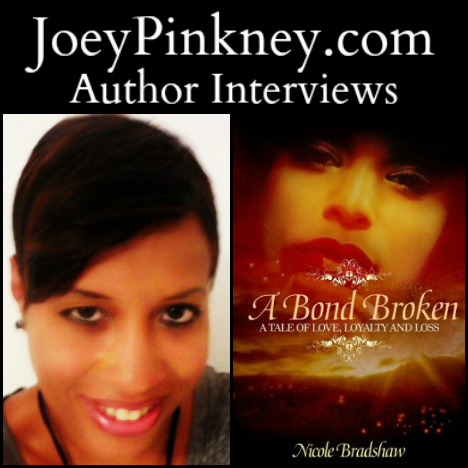 Corinne's big sister, Astrid, has always looked out for her, even if Astrid believes Corinne has favor with their parents. Astrid has a secret. She confides to her younger sister her plans to leave the tiny town of Cherbourg, France, to become the first colored fashion designer in New York City. She'll finally be on her own and rid of the family's strict rules.
When their father loses his job, Astrid is commanded to leave school in order to assist the family financially. Trying to help, Corinne reveals Astrid's secret but only makes the situation worse. Astrid feels betrayed by her younger sister and promises revenge. She seizes the perfect opportunity with Corinne's blossoming friendship with a boy from class.
The sisters become mortal enemies and vow to hate one another until the day they die. That day may come sooner than they think. On April 10, 1912, the family boards the beautiful Titanic on a voyage that will change their lives forever.
"A Bond Broken" is the prequel novella to "Unsinkable", which tells the fictitious story of the only black family on the doomed ship, the Titanic.
Joey Pinkney: Where did you get the inspiration to write "A Bond Broken"?
Nicole Bradshaw: One day, I was watching the movie Titanic. I thought, "What if a black family were on that ship?" I did some research and found out about the Laroche family. From there, I created a fictional "what if" story about what could have happened.
JP: What sets "A Bond Broken" apart from other books in the same genre?
NB: There are many books about the Titanic. What sets "A Bond Broken" apart from those novels is that it's told about the Titanic from a Black family's perspective. On a fictional level, the novel demonstrates what could have happened on that doomed voyage.
JP: As an author, what are the keys to your success that led to "A Bond Broken" getting out to the public?
NB: Honestly, the key to getting your book out to the public is to write it. That sounds obvious. But I know plenty of people who talk about writing a novel and never do. How can you get the book out there if you don't create it?
Take the publishing process in steps. Once the book is written, polish it up. Then you'll need to decide if you want to go the agent route or self-publishing route. But that's much further in the process. Get the first chapter down and the rest will fall into place.
JP: As an author, what is your writing process? How long did it take you to start and finish "A Bond Broken"?
NB: Since "A Bond Broken" is a prequel novella, it took a lot less time to create it. "Unsinkable", the feature novel, took much longer to create because there was more research involved.
Overall, I'd say it took me approximately two months to finish "A Bond Broken" and about eight months to complete "Unsinkable".
JP: What's next for Nicole Bradshaw?
NB: There are a few things in the works for me right now. My first picture book, "Cassi da Conch" is available today written under the name Laurel Handfield.
As for Nicole Bradshaw, my pen name, I'm back to the sexy romance genre in "Champagne Life", which will be released in January. The prequel novella, "Caviar Dreams", will be released in November.
http://facebook.com/pages/Nicole-Bradshaw-Books/495463137170474
[include file=current-advertisers.html]