JoeyPinkney.com Book Review
"Intimacy: How to Get More of It"
by Jodi Ambrose
5 of 5 Stars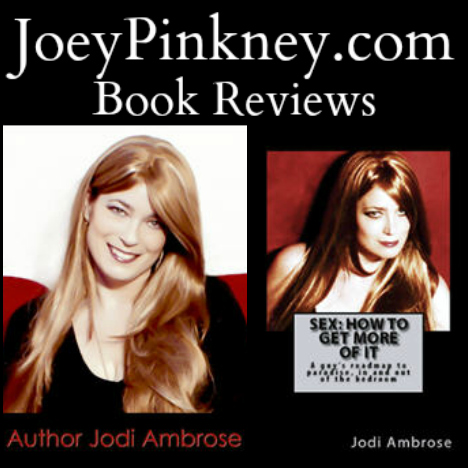 "Intimacy: How to Get More of It", by Jodi Ambrose, is a quick handbook full of great wisdom for a woman to fine tune her approach to dealing with the man in her life. All of the info is geared towards getting more of what you want in terms of love and affection.
With "Intimacy", think less text book and more Cliff's notes. Ambrose is more like a cool aunt rather than Dr. Ruth. I like that Ambrose starts the book with a quick discussion about what this book is and what it isn't, then gives you a list of 20 items to increase the likelihood of intimacy followed by a chapter for each of the items. This makes "Intimacy" read like an open book test on the average man.
As a man, I have to give "Intimacy" two thumbs up. Reading it was like reading about my Zodiac sign. Not every single thing applied to me, but Ambrose got enough of it right that I knew she knew what she was talking about. (Plus, she states in the introduction that she's speaking of the hypothetical "average" man.) This book is full of the things I would want to tell a woman but don't want to discuss. And Ambrose presents the info in a way that most women can relate to.
If you are a woman with a man, read "Intimacy". You can personalize the information within to maintain the warm and fuzzy feelings you want and need in your relationship.
http://facebook.com/pages/In-your-face-publishing/191297024233676
http://twitter.com/JodiAmbrose