JoeyPinkney.com Exclusive Interview
5 Minutes, 5 Questions With…
Jonathan Moeller, author of Ghost in the Blood
(Azure Flame Media, LLC)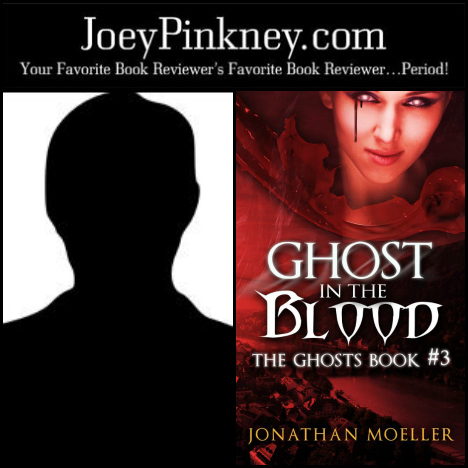 Caina Amalas, is a nightfighter of the Ghosts of the Empire. She's essentially a secret agent of the Emperor, and she travels around the Empire dealing with corrupt nobles, evil sorcerers, slave traders, and occasionally far more dangerous things.
In "Ghost in the Blood", Caina goes to the city of Marsis to track down a particularly vicious group of slave traders. When she finds them, she discovers that the slavers are working for an ancient sorcerer of immense power and cruelty, a sorcerer who is preparing a spell that might shatter the world.
Joey Pinkney: Where did you get the inspiration to write "Ghost in the Blood"?
Jonathan Moeller: Long story.
In 2007, the anthology "Marion Zimmer Bradley's Sword & Sorceress 22" opened up for submissions. I spent several weeks carefully writing and polishing a story. The editor liked it, but said it wasn't the right tone for the anthology, and so rejected it. The submission period hadn't closed yet, so in three days I wrote, edited, and sent in a new story with exactly the opposite tone. The first story had a very "high fantasy", Arthurian feel to it. The second story, about a spy and assassin named Caina Amalas, had exactly the opposite tone.
That story got accepted.
After I sold a few more stories to subsequent "Sword & Sorceress" anthologies, I had the idea to do a novel with Caina. I wrote "Ghost in the Flames". It would be easier to sell a book to a publisher if I had the sequel ready, so I wrote "Ghost in the Blood" immediately after. If I remember right, this was in 2008 and 2009.
Of course, this plan didn't work. In 2010, I wrote one more Caina book, "Child of the Ghosts", a prequel to the other two. Immediately after I finished that book, I got a part-time job teaching Western Civilization 1 on top of my full-time job. I figured my fiction days were done.
Then after Thanksgiving 2010, I got a 3rd-generation Kindle. I thought that there had to be a way to make money off it. A few months later, I read a blog post from thriller writer Lee Goldberg describing how he had sold 7,000 copies of his novel "The Walk" by self-publishing it on Kindle.
"7,000!" I thought. "Heck, I'd be happy if I sold 70!"
I investigated Kindle Direct Publishing and Barnes & Noble PubIt! That's how I ended up doing this interview.
But that wandered rather far afield from the question, didn't it? The idea came from the concept of the necromancer in fantasy fiction and the extreme lengths to which people will go to stay looking fit and young. Necromancers essentially use people as raw material…and the idea sprang from there.
JP: What sets "Ghost in the Blood" apart from other books in the same genre?
JM: "Ghost in the Blood" is sort of a cross between a fantasy novel and a mystery novel.
The setting is somewhat unique, and fun to write. It's essentially a fantasy version of the Roman Empire that managed to survive to the Renaissance, with a powerful organization of sorcerers called the Magisterium fighting the Ghosts for control of the Empire.
JP: As an author, what are the keys to your success that led to "Ghost in the Blood" getting out to the public?
JM: As of this writing, "Ghost in the Blood" has sold about 7,400 copies over a little under two years, so I'm very happy and very grateful how it has worked out. Most traditionally-published books don't sell that many copies, let alone indie-published ebooks.
So how did I still 7,400 copies of the book?
It takes a long time. Another writer (I can't remember who otherwise I'd cite him) said that building an audience is like building a beach one grain of sand at a time. So it's best to think in terms of small gains over time rather than one big dramatic jump.
First, "Ghost in the Blood" is actually the third book in a series. When it comes to fiction, series sell the best. Readers get attached to a character or a group of characters, and like to follow them through their adventures.
Second, I made the first book in the series, "Child of the Ghosts", free. That let people take a chance on the series with no risk. If they liked it, they could continue forward to the paid books in the series. If I had not made the first book free, I guarantee I would not have sold as many copies of "Ghost in the Blood".
Third, I've been building a mailing list. At the end of every book I include a link to sign up to my mailing list, which is a convenient way to let interested people know a new book is out.
Fourth, "Ghost in the Blood" has a really cool cover, done by Clarissa Yeo of bookcoversale.com. A good cover is really, really important. Humans are appallingly shallow creatures that judge things by their appearances. Rather than bemoaning this fact, it's best to take advantage of it. Very often you see self-publishers just starting out simply use a single color with an off-centered text box for their cover, and then wonder why no one will buy the book. I can assemble an adequate cover using The GIMP, but I prefer to hire it out to someone who knows what they are doing.
JP: As an author, what is your writing process? How long did it take you to start and finish "Ghost in the Blood"?
JM: I wrote "Ghost in the Blood" in 2009. If I remember right, it took me two and a half months to finish the rough draft, and another six weeks to edit it.
I've gotten faster since then.
Usually, I outline a book thoroughly before I start. Some writers prefer to just make it up as they go along, but I'm not as one of them. Then I write the rough draft as fast as I can – I find if I take too long, the book starts to get a bit off. I can usually do a rough draft of about 100,000 words in a month or so. Then I edit it using the Track Changes feature in Microsoft Word, I prepare it as an EPUB and a MOBI file for the various ebook sites.
I get most of my writing done over my lunch hour in the storage closet at my office.
JP: What's next for Jonathan Moeller?
JM: Right now I'm writing the rough draft of the second book in my FrostBorn series, "FrostBorn: The Eightfold Knife". I'm about 70% of the way through the rough draft. If all goes well, it should be available by the beginning of November. Then I will start work on the ninth The Ghosts book, "Ghost in the Surge".
http://www.jonathanmoeller.com/writer
http://facebook.com/pages/Jonathan-Moeller/328773987230189
http://twitter.com/moellerjonathan
[include file=current-advertisers.html]