JoeyPinkney.com Exclusive Interview
5 Minutes, 5 Questions With…
Ron Mills, author of Healers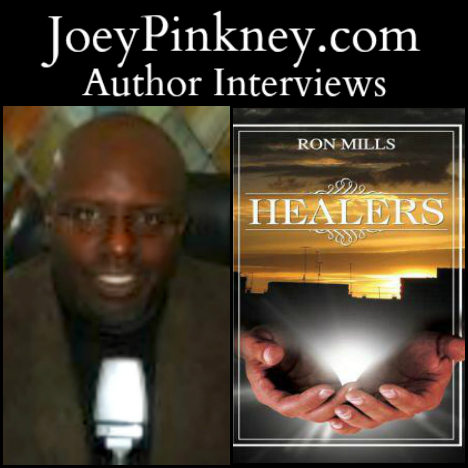 "Healers" is an urban supernatural thriller about three ordinary people that acquire the power to instantly heal all disease and sickness. This miracle gift would change lives of a teenage gang banger, a baptist preacher and an abused mother of two small children.
There are three tales in Healers: "The Gangster and the gift", "Good Intentions" and "Only Women Bleed". They will let you know that miracles come with a price. What would you do with the gift?
Joey Pinkney: Where did you get the inspiration to write "Healers"?
Ron Mills: I saw a televangelist late one night claiming to have the ability to lay hand on people and heal them for a cash donation. He appeared to be a fraud, but I wondered if there are people out there with this gift. I also wondered how this gift would complicate a person's life.
JP: What sets "Healers" apart from other books in the same genre?
RM: "Healers" is an urban supernatural thriller that is set in the hood. There are three stories with three points of view from three very different people that receive the same gift.
JP: As an author, what are the keys to your success that led to "Healers" getting out to the public?
RM: The thanks goes to the new world of e-publishing. It allows someone like me with a good story to get it to the public without depending on a traditional publisher.
JP: As an author, what is your writing process? How long did it take you to start and finish "Healers"?
RM: I have a day job, so I had to write early mornings weekends and late nights. It took me three years to complete "Healers".
JP: What's next for Ron Mills?
RM: I am writing a kindle short about E.T. contact.
"The book is well crafted and has a 4 star rating from the RAWSISTAZ Literary Group!" ~ Ron Mills
[include file=current-advertisers.html]