JoeyPinkney.com Exclusive Interview
5 Minutes, 5 Questions With…
Cachet, author of Miserable Matrimony
(G Street Chronicles)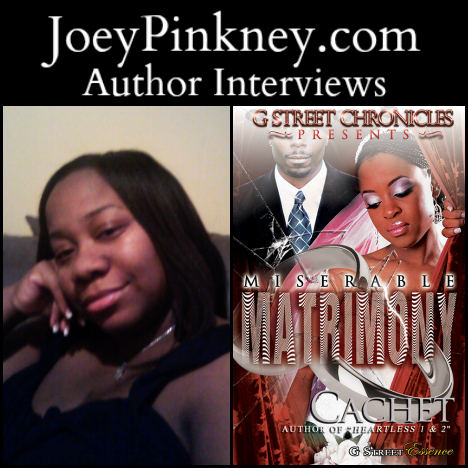 "Miserable Matrimony" is a glimpse into the life of a woman named Chandra, who married a man twenty years older than she. In the beginning of their relationship, Malik treated her with nothing but respect.
Directly after marriage, he changed. He turned into a controlling and abusive bully. He wanted to dictate everything in her life, including what she wore. Chanda does everything in her power to make things right, but nothing seems good enough.
Joey Pinkney: Where did you get the inspiration to write "Miserable Matrimony"?
Cachet: "Miserable Matrimony" came about because I was sitting at home watching Law & Order. A woman was being abused by her husband. I hadn't read a book about that sort of thing. I researched about it. From there, it came to life.
JP: What sets "Miserable Matrimony" apart from other books in the same genre?
C: "Miserable Matrimony" will draw you in from the very first page. Not only is it captivating, but it's realistic. No matter who picks the book up, they will know of someone who is either going through domestic violence now or has in the past.
JP: As an author, what are the keys to your success that led to "Miserable Matrimony" getting out to the public?
C: One of the keys to my success would be that I'm dedicated to this. I love when I read reviews or get messages from a reader telling me that they love my books. That gives me a rush like no other.
JP: As an author, what is your writing process? How long did it take you to start and finish "Miserable Matrimony"?
C: I sit down and get my characters in order and my story outline. Other than that, I don't have a "writing process".I'm a mother of four children, and my life is crazy right now.
I write whenever I can, and it's usually when the house is quite. That's when my characters come out wanting to tell their story.
JP: What's next for Cachet?
C: My next book will be the sequel to "Miserable Matrimony", and it's titled "Deadly Divorce".
http://facebook.com/author.c.johnson
http://twitter.com/CachetNicole
http://www.goodreads.com/user/show/16617284-cachet
"I would like to say thank you to my family and close friends who have always believed in me. I would like to thank George and Shawna for backing me 100%, as well as my entire G Street Chronicles family. I want everyone who has ever picked and read any one of my books to know that I appreciate them more than they will ever know. The reviews and feedback that I receive brightens my day. Much love!" ~ Cachet
[include file=current-advertisers.html]