JoeyPinkney.com Exclusive Interview
5 Minutes, 5 Questions With…
Norlita Brown, author of The Last Shall Be First
(Brown Essence, Inc.)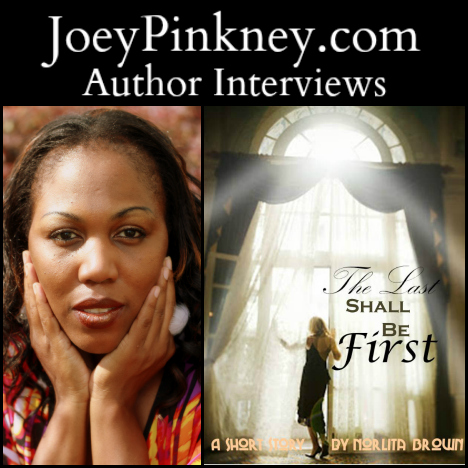 "The Last Shall Be First" is a short story takes you into the life of Jessica Harding. She finds that being a single parent comes with great difficulty.
Walk with her as she leaves behind the things she never should on her journey to raise her children on her own. Will she lose them forever, or will love make its way back to them?
Joey Pinkney: Where did you get the inspiration to write "The Last Shall Be First"?
Norlita Brown: For the past two years, I have been advocating for children. "The Last Shall Be First" is a part of that journey. I write to open the minds of parents to the travesty that some of us place on our children without ever realizing the devestation we're wreaking all in the name of discipline.
The blessing is for the ones who see the detriment and push for change. This work gives children a voice, one that I believe needs to be heard.
JP: What sets "The Last Shall Be First" apart from other books in the same genre?
NB: "The Last Shall Be First" is purpose driven. It is not just for entertainment. It is an emotionally enlightening work that pushes for change in parenting; shedding light on many dark places.
JP: As an author, what are the keys to your success that led to "The Last Shall Be First" getting out to the public?
NB: I am not where others would deem to be successful, but I am happy where I am at. I am seeing God move me into a place that is exciting. I owe that to Him first then to my readers and supporters of my work, like you.
JP: As an author, what is your writing process? How long did it take you to start and finish "The Last Shall Be First"?
NB: Everything I write is from my emotions, which many times has proven to be difficult and draining. I put on music to set the tone of the work and then I engross myself into the characters that I write for.
I become them in every sense. I feel what they are going through, I cry with them and laugh, too. I find myself shocked at what they're capable of and amazed by what they say, but when I'm done I am happy.
"The Last Shall Be First" is a short story, that I wrote for an anthology, "Love Said Not So" with National Best Selling Author Kendra Norman Bellamy and nine wonderful women of M-PACT (Motivated Pens and Creative Thoughts). With that being said, I wrote this in a day, but it has been such a huge blessing in my life!
JP: What's next for Norlita Brown?
NB: I just finished a trilogy which released this past week. My finger is itching to continue in that series with a fourth book as well as a spin off from one of the main characters.
I am also working on a screenplay right now that I am putting my heart and soul into. I can't wait to see this come into fruition.
http://facebook.com/BrownEssenceInc
http://twitter.com/BEssenceinMind
"For readers who love this work, I think they would also enjoy Destroying the Mask and the Motherhood Diaries. All of which were written out of my purpose.
Also, Brown Essence, Inc. is running a contest that extends through to December 15, 2013. We need all the help we can get to reach 1 reader in every state. The link is on our site to be added to our BE readers in 50 states map!" ~ Norlita Brown
[include file=current-advertisers.html]