JoeyPinkney.com Exclusive Interview
5 Minutes, 5 Questions With…
Saidah Brown, author of Watered Down Wisdom: Memoirs of My Life Lessons
(Salaam Publications)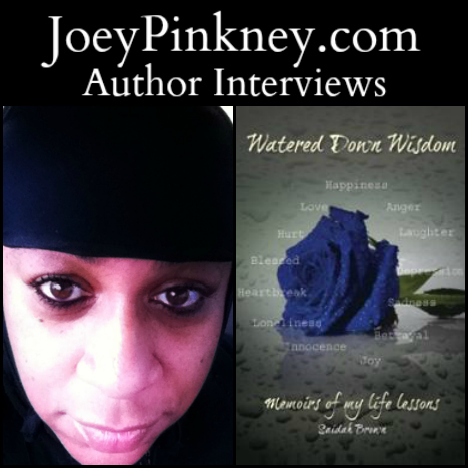 Tish is a soft-hearted, non-confrontational young lady that looks for love in every man she comes in contact with. Her story will take the women readers on an emotional rollercoaster as well as take the men on self-examining journey.
A total page turner and a testimony to all the women who have loved and lost, or been a fool. For all the girls who fill alone about mistakes they've made, this book is for you.
"We spend do much time trying to force a happy home, instead of cultivating the one we have"
– Saidah Brown
Joey Pinkney: Where did you get the inspiration to write "Watered Down Wisdom"?
Saidah Brown: I was instructing a class in Philadelphia's Welfare to Work Program. I worked there as a Life Skills Instructor.
After one of my many motivational classes, a student walked up to me and said, "Ms. Brown, you are so wise."
I laughed a little and said to her, "My wisdom is a little watered down, Love. I'm not smarter than you – just made more mistakes than you, LOL"
I left that day thinking, "I'm gonna write a book about watered down wisdom!"
JP: What sets "Watered Down Wisdom" apart from other books in the same genre?
SB: "Watered Down Wisdom" takes its reader on an emotional roller coaster. It has a personal side that grabs its reader by the heart while teaching important life lessons at the same time.
It wasn't written to play down to my readers. It was written to celebrate every girl out there who has ever loved, laughed, and lost while holding on to a sense of self.
JP: As an author, what are the keys to your success that led to "Watered Down Wisdom" getting out to the public?
SB: I couple my success first to Allaah, whom nothing is possible without Him. Secondly, I am Motivational Speaker for women. Therefore, I'm continuously speaking about my book in my seminars and events. I also take my book everywhere I go. Thirdly, I was smart enough to team up with Salaam Publications and jump right into a world of Urban Fiction. As a result, entering into a community of woman who mostly read urban material but are open to a change of genre.
JP: As an author, what is your writing process? How long did it take you to start and finish "Watered Down Wisdom"?
SB: When I wrote "Watered Down Wisdom", I was suffering from severe bronchitis. I was bedridden for 4 weeks. During the first week, I lied in bed thinking about how my boss laid me off three months previously. I picked up my iPhone and dedicated my book to him. The book flowed quickly and was completed before January 15, 2012.
JP: What's next for Saidah Brown?
SB: I just finished a how-to guide for first meetings and what to ask for dating and marriage entitled "Pick Your Men Like You Pick Your Fruit". This book is actually doing very well. I am facilitating workshops in numerous cities.
My short story "Gidget Goes To Philly",will be published in August, and I am very excited about this read. I take the readers on another adventure of love, heartache, gullibility and extreme silliness.
I am currently writing on my first urban fiction/islamic drama called " Sisterhood", and this promisses to be a heart stopper: love adventure, action , drama, along with suspense!
http://facebook.com/authorsaidahbrown
"I would like all the readers to sample my book. As soon as you start reading "Watered Down Wisdom", it will pull you into my heart and soul. I promise you wont be able to put the book down." ~ Saidah Brown
[include file=current-advertisers.html]