JoeyPinkney.com Exclusive Interview
5 Minutes, 5 Questions With…
Saidah Brown, author of Watered Down Wisdom: Memoirs of My Life Lessons
(Salaam Publications)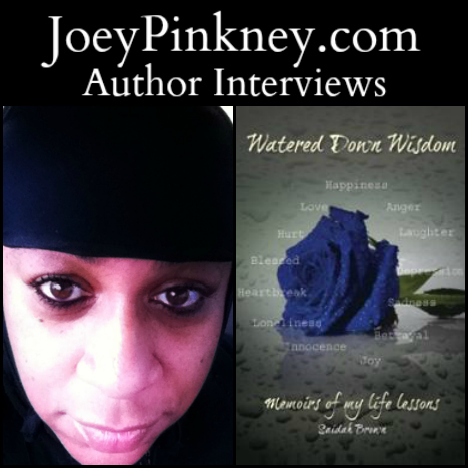 Tish is a soft-hearted, non-confrontational young lady that looks for love in every man she comes in contact with. Her story will take the women readers on an emotional rollercoaster as well as take the men on self-examining journey.
A total page turner and a testimony to all the women who have loved and lost, or been a fool. For all the girls who fill alone about mistakes they've made, this book is for you.
"We spend do much time trying to force a happy home, instead of cultivating the one we have"
– Saidah Brown
Joey Pinkney: Where did you get the inspiration to write "Watered Down Wisdom"?
Saidah Brown: I was instructing a class in Philadelphia's Welfare to Work Program. I worked there as a Life Skills Instructor.
After one of my many motivational classes, a student walked up to me and said, "Ms. Brown, you are so wise."
I laughed a little and said to her, "My wisdom is a little watered down, Love. I'm not smarter than you – just made more mistakes than you, LOL"
I left that day thinking, "I'm gonna write a book about watered down wisdom!" Continue reading 5 Minutes, 5 Questions With… Saidah Brown, author of Watered Down Wisdom: Memoirs of My Life Lessons →