JoeyPinkney.com Exclusive Interview
5 Minutes, 5 Questions With…
Jodie Renner, author of Fire Up Your Fiction – An Editor's Guide to Writing Compelling Stories
(Cobalt Books)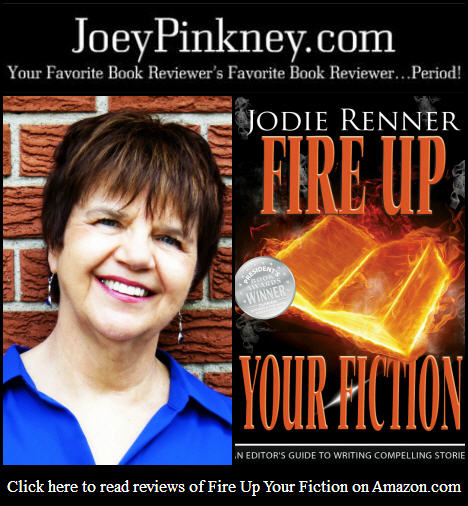 This award-winning, reader-friendly writing guide by respected fiction editor Jodie Renner will help you take your writing skills to the next level, bring your story to life, tighten your writing, add tension and intrigue, and develop a more authentic voice. This clear, concise, highly accessible handbook is packed with excellent tips with examples to help you write like the pros and create a compelling novel that sells.
"Fire up Your Fiction" won a Silver Medal in the FAPA President's Book Awards for 2013 and an Honorable Mention in the Writer's Digest Self-Publishing E-Book Awards for 2013, and is also a finalist in the Foreword Reviews Book of the Year Awards.
Judge, Writer's Digest: "This should be on the booklist for Master's Programs in Writing for Publication. You must be a wonderful editor to write such a readable, but comprehensive book."
IndieReader review: "Jodie Renner's Fire up Your Fiction is a handy manual for writers looking to make the biggest impact with their craft. Fire up Your Fiction is the Strunk and White for writers who want to be not just mere storytellers but master story-compellers."
Joey Pinkney: Where did you get the inspiration to write "Fire up Your Fiction – An Editor's Guide to Writing Compelling Stories"?
Jodie Renner: In my freelance fiction editing business, which I started in 2007, I found I was making many of the same suggestions over and over to my aspiring author clients and even published novelists. I started writing blog posts on various techniques for writing compelling fiction, and my blog posts eventually grew into my two books, "Fire Up Your Fiction" (formerly titled "Style That Sizzles & Pacing for Power") and "Writing a Killer Thriller". Continue reading 5 Minutes, 5 Questions With… Jodie Renner, author of Fire Up Your Fiction – An Editor's Guide to Writing Compelling Stories →