JoeyPinkney.com Exclusive Interview
5 Minutes, 5 Questions With…
Jodie Renner, author of Fire Up Your Fiction – An Editor's Guide to Writing Compelling Stories
(Cobalt Books)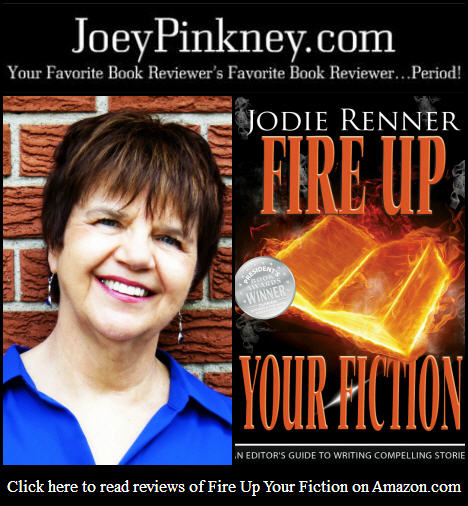 This award-winning, reader-friendly writing guide by respected fiction editor Jodie Renner will help you take your writing skills to the next level, bring your story to life, tighten your writing, add tension and intrigue, and develop a more authentic voice. This clear, concise, highly accessible handbook is packed with excellent tips with examples to help you write like the pros and create a compelling novel that sells.
"Fire up Your Fiction" won a Silver Medal in the FAPA President's Book Awards for 2013 and an Honorable Mention in the Writer's Digest Self-Publishing E-Book Awards for 2013, and is also a finalist in the Foreword Reviews Book of the Year Awards.
Judge, Writer's Digest: "This should be on the booklist for Master's Programs in Writing for Publication. You must be a wonderful editor to write such a readable, but comprehensive book."
IndieReader review: "Jodie Renner's Fire up Your Fiction is a handy manual for writers looking to make the biggest impact with their craft. Fire up Your Fiction is the Strunk and White for writers who want to be not just mere storytellers but master story-compellers."
Joey Pinkney: Where did you get the inspiration to write "Fire up Your Fiction – An Editor's Guide to Writing Compelling Stories"?
Jodie Renner: In my freelance fiction editing business, which I started in 2007, I found I was making many of the same suggestions over and over to my aspiring author clients and even published novelists. I started writing blog posts on various techniques for writing compelling fiction, and my blog posts eventually grew into my two books, "Fire Up Your Fiction" (formerly titled "Style That Sizzles & Pacing for Power") and "Writing a Killer Thriller".
JP: What sets "Fire up Your Fiction – An Editor's Guide to Writing Compelling Stories" apart from other books in the same genre?
JR: Busy fiction writers and aspiring authors love "Fire Up Your Fiction" because it's short, concise, and to-the-point, with great before-and-after examples disguised from my fiction manuscript editing. "Fire up Your Fiction" is reader-friendly, with lots of white space, subheadings and bullet lists, so the ideas are easily accessible.
In the e-book, I have internal links from the Table of Contents, not only from chapter names but also subtopics, so readers can instantly go to whatever interests them, then click back to the TOC. And readers really love the examples, which illustrate the points I'm making. It also includes an exercise section at the end, with examples from various chapters.
JP: As an author, what are the keys to your success that led to "Fire up Your Fiction – An Editor's Guide to Writing Compelling Stories" getting out to the public?
JR: I'm an in-demand fiction editor with two websites, a blog, two group blogs, and about 4,500 Facebook friends and 1,400 Twitter followers. I've also attended and presented at a lot of writers conferences, so all of those activities, plus word-of-mouth referrals have contributed to my credibility and visibility.
Lately, I'm pleased to see so many people, including you and Publishers Weekly, contacting me for interviews, magazine articles, webinars, and workshops. Overall, I think Facebook has been the most instrumental in getting my name and my book out to the public.
JP: As an author, what is your writing process? How long did it take you to start and finish "Fire up Your Fiction – An Editor's Guide to Writing Compelling Stories"?
JR: "Fire Up Your Fiction" and my other book both grew over time, starting with blog posts on various blogs, including my two group blogs, Crime Fiction Collective (stepping down after 3 1/2 years) and the award-winning The Kill Zone blog.
The blog posts were the basis for my chapters, then I added additional material and examples. I also wrote several new chapters for each book, material that doesn't appear on any of my blog posts. Then, since my two books are both self-published so totally in my control, I updated and expanded both of them, to publish second editions.
I also went through 3 cover designs for "Writing a Killer Thriller" and changed the title of this one from "Style That Sizzles & Pacing for Power".
JP: What's next for Jodie Renner?
JR: I'm in the midst of downsizing from a house to an apartment and moving across the country on April 24, but once I get settled, I'll finish my third book, which is three-quarters written.
"Captivate Your Readers", out in fall 2014, is all about stepping back as the author and letting the characters tell the story, in their unique voice. It's about using deep point of view, showing instead of telling, avoiding info dumps, and other techniques for immersing the readers in your story world so they don't even think about putting your book down until it's finished – then look for your next one.
http://www.jodierennerediting.com/
http://facebook.com/jodie.renner.editorauthor
http://twitter.com/JodieRennerEd
http://plus.google.com/u/0/+JodieRenner/posts
"Thank you so much for the opportunity to spread the word about "Fire Up Your Fiction", Joey. I get a huge amount of satisfaction from helping authors take their fiction writing up a level or three, either through my editing guidance or from my books – or both. We all win when their compelling stories are published for our reading enjoyment." ~ Jodie Renner
[include file=current-advertisers.html]