JoeyPinkney.com Exclusive Interview
5 Minutes, 5 Questions With…
Kevin Barron, author of Black Rising
(Blurb)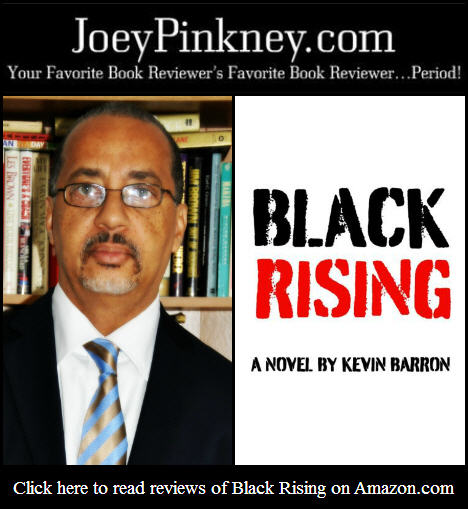 "Black Rising" is a novel about a network of Black organizations covertly collaborating to gain power in America Its military wing has set out to enforce their own version of justice against those individuals and organizations who have gotten away with injustices against Black people.
In the midst of their mission operatives Marcus Brooks, Zarida Johnson, and Lisa Banks are entangled in a romantic conflict that could jeopardize their relationships and the mission.
All the while the network and its operatives are being pursued by a persistent NYPD detective and other law enforcement officials.
Joey Pinkney: Where did you get the inspiration to write "Black Rising"?
Kevin Barron: The inspiration to write "Black Rising" came from the frustration and rage of injustices committed against black people in general, but police and racist killings in particular, and how our reactions to these injustices bear the same result: a few weeks of rallies and protest and the attackers are freed, and we wait for the next incident to do it all over again.
JP: What sets "Black Rising" apart from other books in the same genre?
KB: Not since Edwin Corley's "Seige" and Sam Greenlee's "The Spook Who Sat By The Door" has anyone tackled this theme of Black rebellion as a novel. Most black fiction is centered around romance novels, etc.
JP: As an author, what are the keys to your success that led to "Black Rising" getting out to the public?
KB: Resilience, perseverance, focus. When all is said and done, marketing. Making good use of social media is critical, and of course, learning as much as you can about your craft.
JP: As an author, what is your writing process? How long did it take you to start and finish "Black Rising"?
KB: I try to set aside time to write every day. If I am not actually writing a scene, I have to at least listen to a tutorial, develop characters read or anything pertaining to writing. It is important for me to be consistent and persistent.
I actually started "Black Rising" over 13 years ago. I put it in a folder and stored it away not thinking I could ever get it published. Then toward the end of 2012, I was compelled to pick it back up. (Thank God I didn't throw it out.) I rewrote it, self-published it and here it is.
JP: What's next for Kevin Barron?
KB: I have at least 3 books lined up. It's just about making it happen, and of course, I have to continue to market "Black Rising".
http://kevinbarron2012.wix.com/kevinbarronbooks
http://facebook.com/TheBlackRising
http://twitter.com/BlackRising2014
http://linkein.com/pub/kevin-barron
"First, I want to thank you for this opportunity. Second, you can find "Black Rising" at Amazon.com and Blurb.com. Lastly, I want to say to any aspiring writers to never give up on your dream. I know it sounds cliche, but believe in your talents. Learn as much as you can, and don't let people who have no dreams steal yours. Go for it! God bless you." ~ Kevin Barron
[include file=current-advertisers.html]