JoeyPinkney.com Exclusive Interview
5 Minutes, 5 Questions With…
Apryl Cox, author of Stuck On Stupid
(A&A Publishing)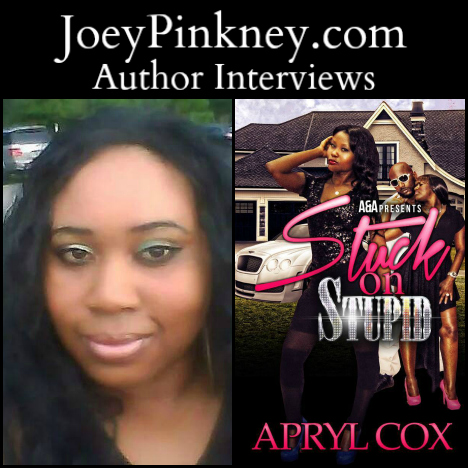 No matter how many times Dezmond breaks her heart, Jazzlynn, better known as Jazzie, can't seem to shake him. He was her first love, and his love is all she knows. She doesn't want to let it go, no matter how much it hurts. Tori, her best friend, is tired of her girl playing the fool. She convinces her to live life for just one night, and Jazzie does just that.
One night out and she meets Mr. Right, but she lets him get away because she can't stop playing the fool. Truth and Tori are best friends, but Truth wants more. Although he has proven his love and loyalty on several occasions, Tori wants to remain just friends. She appreciates their strong bond just the way it is, and she doesn't want anything to come between their friendship. She knows that Truth only wants what's best for her, especially when it comes to her line of work. But no matter how many times he complains, she says she it's her profession to make a living, and she's not giving it up. Deep inside it's her own insecurities that have her in love with one man—and she calls him money!
Truth isn't giving up on her, though. He will stay by her side until she realizes that he's the truth. His psycho baby momma ain't having that. Truth belongs to her, and she's willing to go to extreme measures to prove it.
Stuck on Stupid is based on real-life decisions and the consequences that come behind foolish choices. Get ready for a ride full of emotion, disappointments, drama, heartbreak, close calls, and a little laughter. Will these women ever allow real love in, or will they stay stuck on stupid?
Joey Pinkney: Where did you get the inspiration to write Stuck On Stupid?
Apryl Cox: First, I must say I hated to write because I had issues with spelling. When I started to reading books by Wahida Clark and a few other authors, I would call out the scene in my mind before I read the next page, and it would actually happen. Continue reading 5 Minutes, 5 Questions With… Author Apryl Cox, author of Stuck On Stupid →