JoeyPinkney.com Exclusive Interview
5 Minutes, 5 Questions With…
Apryl Cox, author of Stuck On Stupid
(A&A Publishing)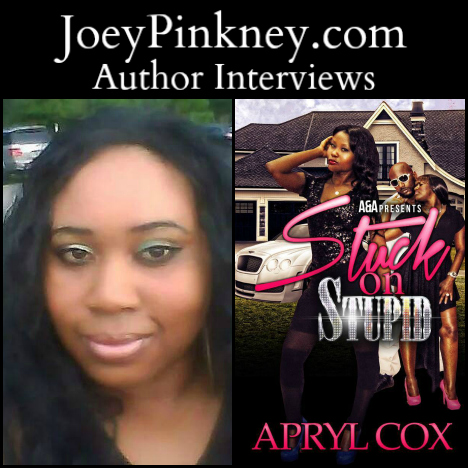 No matter how many times Dezmond breaks her heart, Jazzlynn, better known as Jazzie, can't seem to shake him. He was her first love, and his love is all she knows. She doesn't want to let it go, no matter how much it hurts. Tori, her best friend, is tired of her girl playing the fool. She convinces her to live life for just one night, and Jazzie does just that.
One night out and she meets Mr. Right, but she lets him get away because she can't stop playing the fool. Truth and Tori are best friends, but Truth wants more. Although he has proven his love and loyalty on several occasions, Tori wants to remain just friends. She appreciates their strong bond just the way it is, and she doesn't want anything to come between their friendship. She knows that Truth only wants what's best for her, especially when it comes to her line of work. But no matter how many times he complains, she says she it's her profession to make a living, and she's not giving it up. Deep inside it's her own insecurities that have her in love with one man—and she calls him money!
Truth isn't giving up on her, though. He will stay by her side until she realizes that he's the truth. His psycho baby momma ain't having that. Truth belongs to her, and she's willing to go to extreme measures to prove it.
Stuck on Stupid is based on real-life decisions and the consequences that come behind foolish choices. Get ready for a ride full of emotion, disappointments, drama, heartbreak, close calls, and a little laughter. Will these women ever allow real love in, or will they stay stuck on stupid?
Joey Pinkney: Where did you get the inspiration to write Stuck On Stupid?
Apryl Cox: First, I must say I hated to write because I had issues with spelling. When I started to reading books by Wahida Clark and a few other authors, I would call out the scene in my mind before I read the next page, and it would actually happen.
I always felt that I could do anything until I start doing it. At that point, the enemy got in the mix. I started to believe his report that I couldn't do it!
I started writing Stuck On Stupid back in 2010 and quit because I believed what the enemy said. Four years later, God used a friend to push me. I didn't give in right away.
I was sitting on my bed when God gave me a set of twins. One was in the hospital in a coma, and the wife was on the bedside crying when the brother walks in to see her and not his twin brother. At that point, I began to tell a friend, author Aleta William, about the storyline and that I wanted her to write it.
If not her, I was going to give it to someone else. She said, "Apryl, if you write it,I will help you." I refused, and she told me that I give away my blessings. At that point, we hung up. I sat there thinking I can't do it.
God began to said, "April, if you would just trust me, I will do the rest." He said, "You told me years ago that you wanted to make money while chilling at home or chilling with friends. Yet you are about to give all that away?"
When God gave me that one yes, I trusted him . Here I am now – 13 months later, five books, and a bestselling author. All because I trusted God and believed that I could.
JP: What sets Stuck On Stupid apart from other books in the same genre?
AC: Stuck On Stupid is reality! You can find yourself or someone else in my books. You can say hey that's me, I am stuck on stupid, or that used to be me and I never want to be stupid on that type of stupid again. Also my testimonies that are in there will bless your spirit!
JP: As an author, what are the keys to your success that led to Stuck On Stupid getting out to the public?
AC: The keys to my success are trusting God, having faith that it is happening even if it doesn't look good, and knowing that faith without work is dead – period!
You have to push your work like crazy in your own hometown. You have to get out there in the streets and sell your books. Also networking is a great tool.
Always try to communicate with your fans becuase they love that. You sometimes have to spend long hours promoting your work even when you don't feel like it. Just do it.
JP: As an author, what is your writing process? How long did it take you to start and finish Stuck On Stupid?
AC: When I started, it took me about four months to complete a novel. I would write at midnight to three or four in the morning. I had to be at work by 7 AM and do a 12 hour shift. I'm sure you know how that turned out…
Now I'm am a full-time author, and it takes me about two months if I stay on my grind. I write every novel from my phone because I hate typing, so that takes some time as well.
JP: What's next for Author Apryl Cox?
AC: Let's just say I'm waiting on that phone call from Tyler Perry. I want to be in every store, library,  and radio show. I want to try my hand in a few plays and movies.
https://www.facebook.com/apryl.cox.5
https://twitter.com/NellyNelWife
"None of this is possible without God. I give him all the glory for what He has done and what's about to happen tomorrow! I want it bad, so I have to keep God on my side. What better person to have in the driver seat? Also I would love for everyone to check out all the authors' work in our company. We all bang." ~ Apryl Cox
[include file=current-advertisers.html]