JoeyPinkney.com Exclusive Interview
5 Minutes, 5 Questions With…
Jamesina Greene, author of She Inspires
(CreateSpace)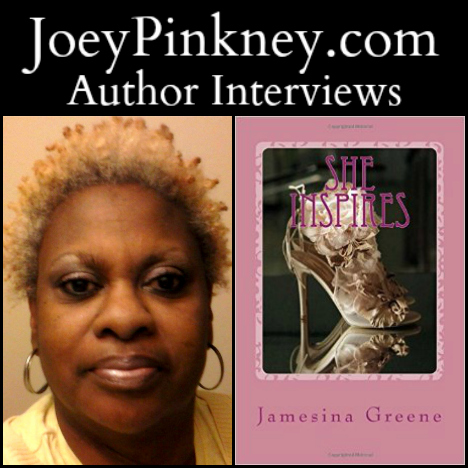 In her trademark fashion of straight-forward, humorous and from-the-heart manner, Jamesina Greene gives you inspiring comments and affirmations that will ultimately lead you to a better quality of life.
She Inspires includes affirmations and inspirational quotes that the reader can utilize on a daily basis to enhance their life and uplift their spirit.  It gives insight and clarity into Jamesina Greene's heart and soul and gives her the written opportunity to uplift and inspire the lives of others.
Joey Pinkney: Where did you get the inspiration to write She Inspires?
Jamesina Greene: I wrote She Inspires in response to the feedback that I constantly receive from individuals that I interact with both in-person and online.  From childhood, I have always felt a natural attraction to those who are hurting and suffering any type of abuse, rejection or low self-esteem.  I responded to my various life events by writing in a journal.
As I grew older, I realized that there are many others who, like myself, suffer in silence.  As a result, I was inspired to write She Inspires as a way to encourage individuals to be the very best that they were divinely created to be.
JP: What sets She Inspires apart from other books in the same genre?
JG: Honesty and transparency sets She Inspires apart from others in the same genre.  I am often told that people are positively shocked into making changes after reading my words.  That is my goal.  In addition, She Inspires is different in that these are not just words to be memorized.
I have written practical daily life applications that will change an individual's life for the better.  I also am very personable and understandable in She Inspires.  Each of these words come from a place of self-understanding and self-love.
She Inspires is set apart from others because from the very beginning to the very end, the reader will not just read it, but they will experience it.
JP: As an author, what are the keys to your success that lead to She Inspires getting out to the public?
JG: As an author, my keys to success with marketing my book are my personality and realness.  Each interaction and life experience is an opportunity to share my story.  I humbly take advantage of these opportunities.
I am also an ordained minister, a counselor and a teacher.  Each of these roles provide me with continual contact with people who will benefit from my stories.  From birth, I have been gifted with the ability to actually see what people are dealing with.
Therefore, when I write, the subject matter is relevant and people are drawn to it.  As I travel throughout the country, I am blessed to touch lives of many who can relate to what I write. I never fail to use my gift of writing to bless and enhance others.
JP: As an author, what is your writing process? How long did it take you to start and finish She Inspires?
JG: My writing process involves writing on a daily basis.  I try to make it a habit to write something, even if I only have 10-15 minutes in which to do it. When an idea for a book or story line enters my mind, I immediately write it down. Then I make a basic outline of what I see and feel with regard to that particular storyline.
Everyday there is an experience or emotion that I can write about.  I love to write in my journal.  During this time, I find that I can recall with clarity each thing I have done that day, and I can feel the impact of my actions.  Most of my books, have been birthed from my journal writing.
My writing process includes the belief that life is full of inspiration, and everything we see and do, has a lasting impact.   I live it.  I feel it.  I write it.  I took me approximately three months to do She Inspires because I just had to compile the affirmations among other things that I written.  I also made contact with some phenomenal individuals who provided testimonials, in regard to how my life has inspired them.
JP: What's next for Jamesina Greene?
JG: At this time, I am working on my first children's book. This project is taking me way out of my comfort zone (smile), and I'm very excited about it.  I am blessed to have my grandchildren and nieces and nephews assisting me.  I am loving this project.  I am also working on a book manuscript that I began with my late father that will give a deeper insight into my understanding of the incomparable impact of a father in his children's lives.
Additionally, I am working on my first novel and a She Inspires Daily Journal.  Within the next few months, it is my plan to be in the recording studio to work on a collaboration of songs that I have written and have them produced into demos.  I am playing with the idea of a monthly magazine that will carry the theme and tone of my radio show, "The Voice of Triumph."
https://www.facebook.com/jamee.greene1
https://twitter.com/SheInspires61
https://www.linkedin.com/pub/jamesina-greene/19/636/a83
"I would just like to encourage your readers to LIVE each moment fully.  It is never too late to be the you that you were predestined to be.  The Life Journey has a way of throwing you some serious curves.  However, each step of your Journey serves a divine Purpose.
A little over a year ago, I suffered a stroke and was told that I may never be able to walk or talk again.  I refused to accept that.  I decided rather to believe that even that experience is a part of my story that I have to share.
You have a story, and you must tell it.  Every thing that has occurred in your life is pushing to closer to the fulfillment of your destiny." ~ Jamesina Greene
[include file=current-advertisers.html]