JoeyPinkney.com Exclusive Interview
5 Minutes, 5 Questions With…
Niki Jilvontae, author of A Broken Girl's Journey 3
(True Glory Publications)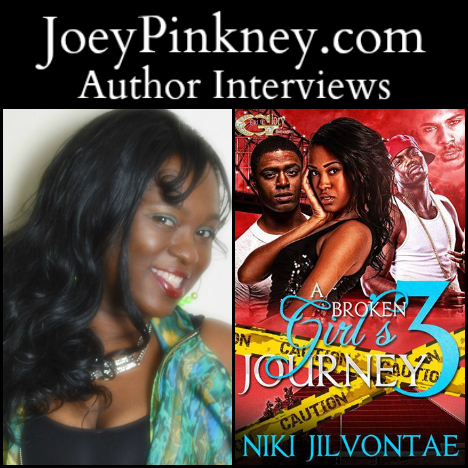 Tragedy, pain, turmoil, and despair seem to be the theme for Lakea Johnson as she experiences more abuse and loss in her already broken life. Lakea struggles with old demons while trying to be a great mother and aunt, but new demons find her – ripping her heart out and dimming her light.
After an abusive relationship and losing her brothers, Lakea feels that all hope is gone. Then God brings her another love – Daniel. Daniel offers Lakea a love even stronger than Jeremy's and helps her to see that God has given her another chance at a wonderful life. Things are really good for a while, so good that Lakea lets her guard down and begins to live and love again.
Death makes a house call – snatching the closest person to her, and leaving her a shell of her former self. Lakea is wrapped up in the only thing she has even known: PAIN!
Can Lakea ever truly be happy? If she does, can she maintain that happiness, or will hate, pain, and violence find its way back into her life somehow?
Joey Pinkney: Where did you get the inspiration to write A Broken Girl's Journey 3?
Niki Jilvontae: My late aunt, Devon Russell-Wirt, inspired me to write at a very young age. I grew up watching her and my mother reading and writing poetry, so naturally I developed the same interests. My aunt taught me to channel my emotions through words. By the age of eight, I had began writing poems and short stories.
A Broken Girl's Journey 3 was inspired by my life and the things I saw growing up in the projects of Memphis, TN. I saw all of the violence, pain, poverty, and despair, and I knew that I had to write about it in order to effectively deal with my feelings.
JP: What sets A Broken Girl's Journey 3 apart from other books in the same genre?
NJ: I think what sets A Broken Girl's Journey 3 apart from others in the same genre is the fact that this book is very emotional and real. I usually take real-life situations and build off of them, which is why I am always so emotionally connected with my characters.
I try to write with my feelings, both good and bad, so that I create characters my readers feel they know and often grow to love. I like to make sure that my readers feel, see, and hear everything my characters do. I love to evoke emotions in people that they never imagined possible. 
JP: As an author, what are the keys to your success that lead to A Broken Girl's Journey 3 getting out to the public?
NJ: I think that the five keys to success that led me to getting my book out to the public were: persistence, dedication, sacrifices, hard work, and patience.
I tried for a long time to get my work published and no one wanted to give me a chance. However, no matter what, I never gave up. I was dedicated to the author's life and getting my voice heard, so I sacrificed some sleep, energy, and money, and put in a lot of hard work just to make myself visible in the industry.
Now I am beginning to see some of the fruits of my labor. Now my patience is paying off!
JP: As an author, what is your writing process? How long did it take you to start and finish A Broken Girl's Journey 3?
NJ: My writing process is based on the things I see and feel each day. I often look around at my environment and gather book ideas. Once I have that idea, I write it down and go over the entire book in my mind like a movie. I visualize every chapter, every detail step-by-step, and create an outline based on what I want the book to be like.
After I create the outline the names of the characters come to me as I write. It took me three weeks to write A Broken Girl's Journey 3, from start to finish. I could have been done sooner, but I started over twice. 
JP: What's next for Niki Jilvontae?
NJ: Well, I recently released A Broken Girl's Journey 4: Kylie's Song, which is the final book in the series. I am also currently working on the spin-off series Bent, But Certainly Not Broken which will feature a couple of main characters from the last series. I also have two new urban novels coming out and a children's books series in illustration.
I guess after saying all of that, working, creating more emotional books, and trying to improve as a writer is what's next for me!
http://missmoccalatee.wix.com/nikijilvontae
https://www.facebook.com/authorniki.jilvontae
https://twitter.com/NikiJilvontae
[include file=current-advertisers.html]