JoeyPinkney.com Exclusive Interview
5 Minutes, 5 Questions With…
Niki Jilvontae, author of A Broken Girl's Journey 3
(True Glory Publications)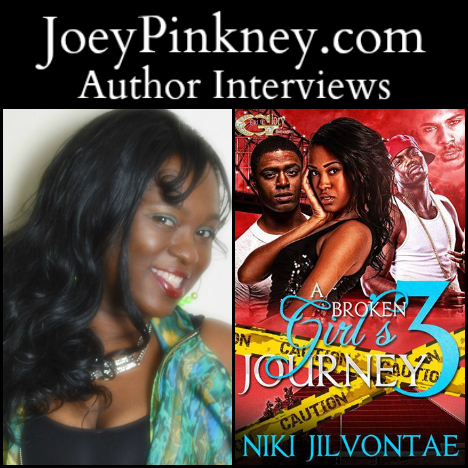 Tragedy, pain, turmoil, and despair seem to be the theme for Lakea Johnson as she experiences more abuse and loss in her already broken life. Lakea struggles with old demons while trying to be a great mother and aunt, but new demons find her – ripping her heart out and dimming her light.
After an abusive relationship and losing her brothers, Lakea feels that all hope is gone. Then God brings her another love – Daniel. Daniel offers Lakea a love even stronger than Jeremy's and helps her to see that God has given her another chance at a wonderful life. Things are really good for a while, so good that Lakea lets her guard down and begins to live and love again.
Death makes a house call – snatching the closest person to her, and leaving her a shell of her former self. Lakea is wrapped up in the only thing she has even known: PAIN!
Can Lakea ever truly be happy? If she does, can she maintain that happiness, or will hate, pain, and violence find its way back into her life somehow?
Joey Pinkney: Where did you get the inspiration to write A Broken Girl's Journey 3?
Niki Jilvontae: My late aunt, Devon Russell-Wirt, inspired me to write at a very young age. I grew up watching her and my mother reading and writing poetry, so naturally I developed the same interests. My aunt taught me to channel my emotions through words. By the age of eight, I had began writing poems and short stories. Continue reading 5 Minutes, 5 Questions With… Niki Jilvontae, author of A Broken Girl's Journey 3 →