JoeyPinkney.com Exclusive Interview
5 Minutes, 5 Questions With…
Pat Simmons, author of A Christian Easter
(Generation Quest Press)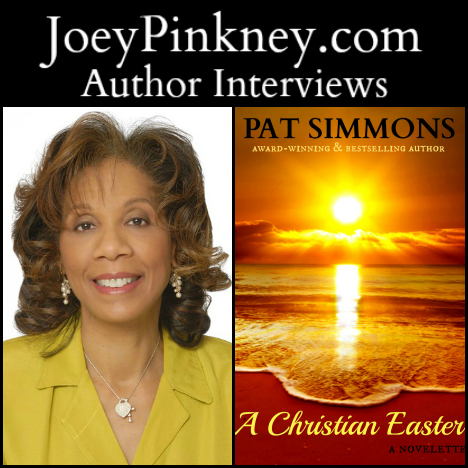 How to celebrate Easter becomes a balancing act for Christian and Joy Andersen and their four children. Chocolate bunnies, colorful stuffed baskets and flashy fashion shows are their competition.
Despite the enticements, Christian refuses to succumb without a fight. And it becomes a tug of war when his recently adopted ten year-old daughter, Bethani, wants to participate in her friend's Easter tradition.
Christian hopes he has instilled Proverbs 22:6, into the children's heart in the short time of being their dad.
Joey Pinkney: Where did you get the inspiration to write A Christian Easter?
Pat Simmons: I wanted to see more Christ-centered celebration in Easter.
JP: What sets A Christian Easter apart from other books in the same genre?
PS: Since I basically write Christian romance, I think the Scriptures that are intertwined allows Jesus to come alive as a character.
JP: As an author, what are the keys to your success that led to A Christian Easter getting out to the public?
PS: Promotion through social media, interaction through social media and attending a lot of author events.
JP: As an author, what is your writing process? How long did it take you to start and finish A Christian Easter?
PS: A Christian Easter took a couple of weeks. I always want to make sure that I'm getting God's message across and not Pat's.
JP: What's next for Pat Simmons?
PS: Currently, I'm working on Christmas Greetings, my 2014 Christmas novella. It's to inspire those who have holiday blues.
http://facebook.com/authorpatsimmons
"Thank you for the opportunity, and I hope readers will try my popular Guilty series, Carmen Sisters series and Love at the Crossroads series." ~ Pat Simmons
[include file=current-advertisers.html]