JoeyPinkney.com Exclusive Interview
5 Minutes, 5 Questions With…
Jamesina Greene, author of She Inspires
(CreateSpace)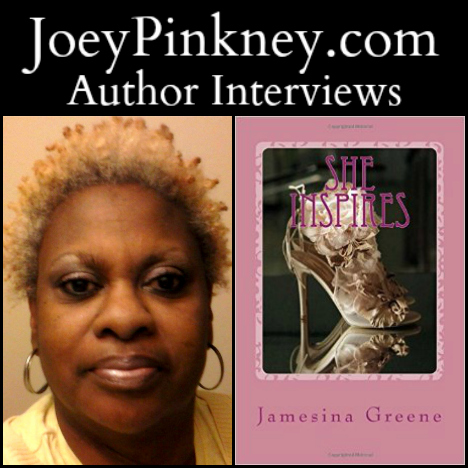 In her trademark fashion of straight-forward, humorous and from-the-heart manner, Jamesina Greene gives you inspiring comments and affirmations that will ultimately lead you to a better quality of life.
She Inspires includes affirmations and inspirational quotes that the reader can utilize on a daily basis to enhance their life and uplift their spirit.  It gives insight and clarity into Jamesina Greene's heart and soul and gives her the written opportunity to uplift and inspire the lives of others.
Joey Pinkney: Where did you get the inspiration to write She Inspires?
Jamesina Greene: I wrote She Inspires in response to the feedback that I constantly receive from individuals that I interact with both in-person and online.  From childhood, I have always felt a natural attraction to those who are hurting and suffering any type of abuse, rejection or low self-esteem.  I responded to my various life events by writing in a journal. Continue reading 5 Minutes, 5 Questions With… Jamesina Greene, author of She Inspires →