JoeyPinkney.com Exclusive Interview
5 Minutes, 5 Questions With…
Sheila Raye Charles, author of Behind the Shades: Hope Beyond the Darkness
(Vox Dei)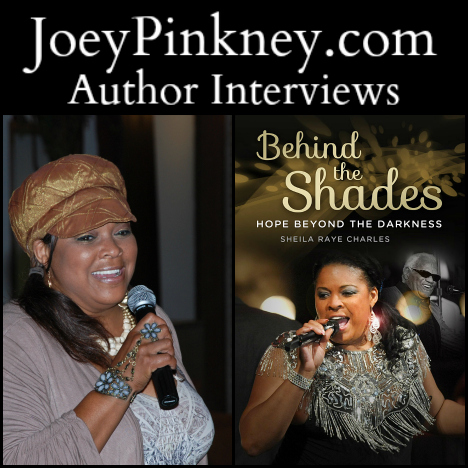 Let me begin with a telling quote from the book: "Now within sobriety, I felt I had created such a mess with my life that any love others held for me must surely be gone. Looking for love from someone, from anyone, I became convinced it no longer existed. How do you get over that?"
Although I was the daughter of renowned musician Ray Charles and surrounded by people, I was overwhelmed with loneliness. Those I should have been able to trust had failed me, and I also failed so many. Sometimes it seemed there was no hope beyond these shadows I could never seem to escape – shadows brought on not only by my own choices but also by the choices of those who'd lived before me.
This book tells the raw truth of my story…that despite the dark times – and even through them – there is indeed Hope!
Joey Pinkney: Where did you get the inspiration to write "Behind the Shades: Hope Beyond the Darkness"?
Sheila Raye Charles: "Behind the Shades" has a very complex background! First, my father was Ray Charles, so his fame and schedule as a musician —not to mention his personal choices—made for a rocky childhood for me and a difficult life for my mother. Continue reading 5 Minutes, 5 Questions With… Sheila Raye Charles, author of Behind the Shades: Hope Beyond the Darkness →