JoeyPinkney.com Exclusive Interview
5 Minutes, 5 Questions With…
Sheila Raye Charles, author of Behind the Shades: Hope Beyond the Darkness
(Vox Dei)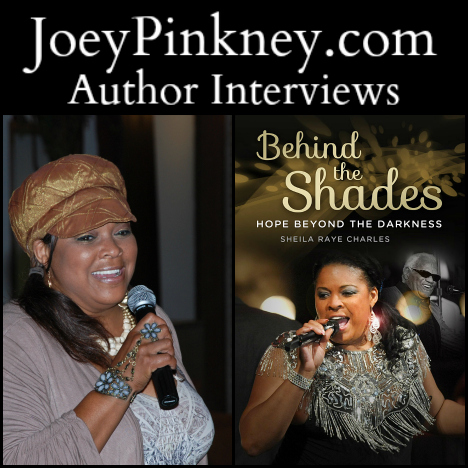 Let me begin with a telling quote from the book: "Now within sobriety, I felt I had created such a mess with my life that any love others held for me must surely be gone. Looking for love from someone, from anyone, I became convinced it no longer existed. How do you get over that?"
Although I was the daughter of renowned musician Ray Charles and surrounded by people, I was overwhelmed with loneliness. Those I should have been able to trust had failed me, and I also failed so many. Sometimes it seemed there was no hope beyond these shadows I could never seem to escape – shadows brought on not only by my own choices but also by the choices of those who'd lived before me.
This book tells the raw truth of my story…that despite the dark times – and even through them – there is indeed Hope!
Joey Pinkney: Where did you get the inspiration to write "Behind the Shades: Hope Beyond the Darkness"?
Sheila Raye Charles: "Behind the Shades" has a very complex background! First, my father was Ray Charles, so his fame and schedule as a musician —not to mention his personal choices—made for a rocky childhood for me and a difficult life for my mother.
Another issue is that I was blessed with my father's musical genes, only sometimes I didn't quite know how to handle that. The rejection and confusion that I experienced, especially in my relationship with my father, only exacerbated the dark elements of my young life that were already present because of the sexual abuse I experienced as a child.
Although I do strongly believe in personal responsibility, there was a time in my life when I allowed the above issues and more to influence my choices, and I became addicted to drugs. One thing led to another, and at the time that I hit rock bottom, I had lost my children and found myself in prison with plenty of time to think long and hard about my life…and cry out to God. I'd previously turned to him between my various wrong decisions, but it was at this point that I determined with all my heart to let him change my focus and use me to reach others for Him.
Finally, "Behind the Shades" includes my mother's story. Though I cannot approve all of her choices, she was a woman of strength and love, and she knew my father, Ray Charles, in a way that few others did. It was her dream that I write this book, and I hope I have done justice to her memory.
JP: What sets "Behind the Shades: Hope Beyond the Darkness" apart from other books in the same genre?
SRC: I think every person has a unique story to tell. "Behind the Shades" is perhaps different because of the various elements of my background and because, against all odds, I did ultimately choose to let the Lord have free reign in my life and use the good, the bad, and the ugly for His glory.
I also believe that because of the book's transparency, God uses it to bring change in the lives of others who identify with the darker moments of my life. Despite the difficulties, the truth remains that He is Hope! And as we abide in Him, we are hope. What He has done for me, He can do for each of you!
JP: As an author, what are the keys to your success that led to "Behind the Shades: Hope Beyond the Darkness" getting out to the public?
SRC: The keys to success depend on what the audience wants to read, to a degree, but marketing and awareness are also important. I've had the opportunity to share my story through various songs and media; I was blessed to be handpicked for Milliea McKinney's "We Are Hope"—a song that has hit the top music charts and received national and international acclaim.
I also had an awesome interview on TBN (Trinity Broadcasting of New York; the world's largest religious network), and my interview will air on August 13 at 10:00 p.m. EST, also available online at www.itbn.org a few days after it airs. All of these things are helpful for raising public awareness not only of "Behind the Shades" but also of the Lord and what He has done in my life.
JP: As an author, what is your writing process? How long did it take you to start and finish "Behind the Shades: Hope Beyond the Darkness"?
SRC: I worked closely with Glenn Swanson, and we wrote "Behind the Shades" together. My mother had also written a journal, having specifically told my father that she would like to note down things about her life with and without him as well as events they'd shared—things she wanted the world to know.
So, even though my part of the book-writing process took two years, I would have to say it was a life project for my mother in that she recorded and saved accounts of various events over a period of many years.
JP: What's next for Sheila Raye Charles?
SRC: I Believe God has called me to share the message of the gospel with the world and to sing songs dedicated to bringing HOPE TO OUR YOUTH! Where the Lord leads I'll go… "We Are Hope!"
http://facebook.com/SheilaRayeCharlesFans
http://twitter.com/SheilaRaye1
Endorsements:
"Listen to Sheila Raye; she knows what she's talking about."
—John Legend, Nine-time Grammy Award winner and recipient of Starlight Award from the Songwriters Hall of Fame
"Sheila's journey and testimony will certainly bless you and those who read about the amazing grace of our Lord and Savior."
—Milliea Taylor McKinney, Award-winning Songwriter and CEO of Conscious Music Entertainment
"Ms. Charles has an amazing story of hope to share that will inspire and motivate everyone she meets. She has touched my life, and I am proud to know her and call her friend."
—Josie Passantino, Host of The Josie Show, www.josieshow.com
"I'll need to buy another copy of this book. The one I have is pretty messed up from all the tears…thank you for that."
— Pat Melfi, Founder and CEO of MuzArt World Foundation
[include file=current-advertisers.html]