JoeyPinkney.com Exclusive Interview
5 Minutes, 5 Questions With…
Naseera, author of Kidra
(Keith Publications)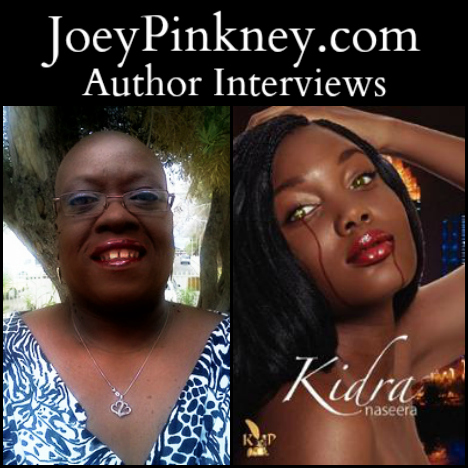 "Kidra" is about a woman who has had her destiny laid out for her the minute she was born. She is plunged into a world of Vampires, blood, lust, hunger and thirst – and the knowledge that she is Dracula's daughter from Africa.
With all her wealth and with all her powers, there's the one thing she doesn't have: the right to love and hold on to it. Mattheu, because she spurned him, will see to it that not only will she never love, but she must die to avenge his plight. He too suffers from love…
Joey Pinkney: Where did you get the inspiration to write "Kidra"?
Naseera: I was inspired by the fact that the only vampire movies of Blacks that I have seen has been the Blackula movies, Def by Temptation, Vampire in Brooklyn and Vamp. I then had to look at the genre as a whole and realized that the original version was about a love between a man, his woman and the way that she died. None of the movies really touched on that. Continue reading 5 Minutes, 5 Questions With… Naseera, author of Kidra →